How an emerging jazz band used Foundations to hone their business chops and plan a European tour.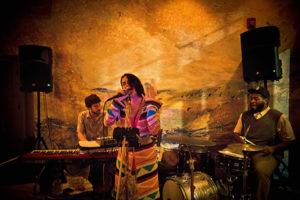 While it is well known that Mountain Bizworks helps small businesses develop and fulfill dreams with supportive classes, loans, coaching, and much more, it may come as a surprise that the small business of being a jazz band can also benefit from these disciplines. That is exactly what happened when CaroMia and Simon of Siamese Jazz Club, took the Foundations Class and created a plan to fulfill their dreams and further their success.
CaroMia and Simon met through Asheville Music Scene. Sharing a mutual love of music they each had cultivated since childhood, they decided to create a duo. After playing a time or two, they realized they wanted to add a drummer to the mix. Enter Phill Bronson. In June of 2015, they played their first gig together at the 5 Walnut Street Party. CaroMia had already been performing at this venue on Monday nights making this an obvious first step for the new group. They instantly knew they had a special magic between them and Siamese Jazz Club was born.
Improvisation Benefits from a Little Structure
Even though enjoying success, the band wanted to grow their business and sought support from the Mountain Bizworks Foundations Class. "With music there are so many avenues and angles to consider. It's too much to look at everything. Being in an artistic field makes it difficult to separate the creative aspect from the business side and be objective. Foundations helped us to focus on what our priorities were and hone in to create a plan," Simon shared. As a result, they chose to focus on planning a music tour in Europe that had a solid business plan behind it.
A challenging step in the process was when they were asked to explore and explain where they wanted to be in five years. "It was hard and embarrassing to admit what I wanted from my career out loud. The class created a safe atmosphere to explore this so we could create a vision statement with a bird's eye view," CaroMia said. This would be the first step to making their dream a reality.
"Monetization is the key word for me. The class helped me to realize we don't work for free and discover more ways to make money making music," Simon disclosed. Both musicians shared how in the class everyone was learning from each other as well as the teacher. There was a feeling of everyone being in this together with a common spirit of entrepreneurship and focus on self-betterment.
The International Expansion
As a result of six weeks of focused work, Siamese Jazz Club will be headed on their first European Tour in April of 2017. They have scheduled dates in Amsterdam, Belgium, France, Switzerland, and Spain with more locations in the works. They are proud and pleased to make music their sole focus. "We'd rather go and play music….not just take a vacation," Simon shared. As a result of spreadsheets and careful planning, their dream of a European Tour is becoming a reality with a serious financial eye to their plans.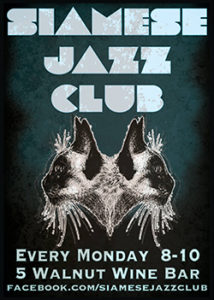 For their next step, they plan to record and release an album in 2017. "Our audience loves us and wants to take us home with them. We plan to make something available so they can do this," CaroMia said. They hope the album will send a message and touch people just as they do when they play live. It is their intention to say something and reach people with their music. If you've ever had the pleasure of seeing them perform, it is clear this is exactly what they are able to do with their music.
Both credit the class with helping them to get serious about their plans, set goals, and formulate steps to meet them all while viewing the overall process objectively. They both appreciate that there were people in the class ranging from knowing their focus to not even knowing what their business might be with all participants learning and growing together through the process. "The interaction between the students was very educational…there was lots of knowledge in the room," said CaroMia.
Catch them at 5 Walnut
"Siamese Jazz Club" is a blending of CaroMia and Simon's name with 'club' acknowledging they are not limiting the number of members at any time. Their music is a diverse mixing of R&B, HipHop, and Neo Soul with improvisational jazz undertones. You can find them at 5 Walnut every Monday night from 8-10 pm with the exception of December 27 – January 18 when they will be taking their music to the Virgin Islands.
CaroMia and Simon feel they are on the road to success more than ever now. They are grateful and pleased that they are able to make a living doing the things they love the most, play music and touch people. Thanks to the Foundations class, their dream and plans will take them to Europe and even more venues in Asheville.
Learn more by following Siamese Jazz Club's Facebook page.  Or check them out any Monday at 5 Walnut wine bar. And learn more about the Foundations business planning class.