John Cooper, Founder of Mast General Store, shares his secret to success: common sense, trial and error, and giving back 
Note: The following is a part of ScaleUp WNC's case study series. Is your business ready to scale? Learn how to participate in future program cohorts.
Phase I: How it Started
When John and Faye Cooper purchased an old building in an unincorporated little town in the Blue Ridge Mountains with the intention of bringing back a historic general store, they were taking a big risk. As they sold their house in Florida and prepared to move to Valle Crucis, North Carolina with their two young children, they hung a clipboard outside the building to get any feedback they could from the locals. An attorney that helped with the process predicted they would never turn a profit. They went for it anyway, living upstairs and working the registers themselves to make ends meet.
Fast forward more than 30 years and Mast General Store is a well-recognized regional brand with a relentlessly authentic feel and incredibly strong community ties. They have grown to nine locations, hundreds of employees, and more than nine million in revenue, and yet Mr. Cooper will tell you that for the first two years they had no set plan, no budgets, and even more amazingly, no clear vision for what the store would someday become.
John was 34 and Faye was 32. He was advancing rapidly in the insurance industry, but turned down a competitive offer; he had tried it, and he was read to escape the rat race. "We thought it was important to bring back a place that was really a fixture of the high country, though not as well-known as it is now." Around the same time Southern Living ran an article about historic shopping centers, featuring a picture of the old store in Valle Crucis, and echoing the feeling he had standing inside the old general store: the past might still have considerable value to present-day consumers.
"We opened less than a month and a half after we moved up here…Faye would be working the register and I'd be repairing the building, and as it turned out we were both working the register and the repairs had to come later." Right away customers came, and John and Faye worked all day, every day, learning as much as they possibly could on the fly about merchandising. Beginning with an assortment of useful items reminiscent of the original inventory, they purchased what they could afford, expanding product offerings as they went. Their simple financial strategy was to pay bills on time, seeking financing as needed in order to do so, and to set prices as low as possible.
"If you carry good merchandise and you're fair with your pricing, we thought we had a chance to succeed. We didn't know how well. I never envisioned having nine stores…"
According to their daughter, Lisa Cooper, who now runs the company, at first they were focused on trying to keep the General Store true to its roots by seeking out "old-timey" products. Rosebud Salve was one of the first product lines, which reminded many customers of their childhoods when the salve was sold door to door. They looked for useful products with histories, and fun products that would make customers feel like they had discovered something, but ultimately they established an extremely broad product mix that would appeal to an equally broad market. Their mantra was, 'If we don't have it, you don't need it'. To this day Mast Store leadership believes this product mix is their true competitive advantage.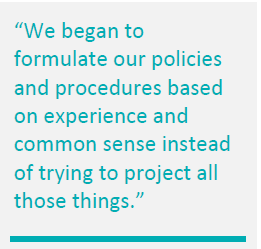 Phase II: Learning
The Mast General Store opened early and closed late every day of the week, and John and Faye were always there, learning from their customers. Their "common sense" policies and procedures were developed on the fly, and they hired staff as needed.
"We began to formulate our policies and procedures based on experience and common sense instead of trying to project all those things."
During those two years of focusing on the work, they passed the $150,000 mark, and also hit their ceiling. They were running out of space at the main location, and customers seemed to want more clothing and shoes. They formed a partnership with the Candy Barrel, sharing the building that now houses the annex. This was the first of many prudent business decisions the Coopers made, allowing them to expand without taking on any unnecessary risk. "It made perfect sense to be close enough by not to have difficulty controlling the operation."  It was also the first of many instances of the Mast General Store stepping in when other local businesses couldn't quite make ends meet. Even without a complex strategy, Mast General Store had something other businesses couldn't seem to replicate.
This was the point when John Cooper had to take a step back from day-to-day operations in order to manage the growing business. It was challenging to let others handle customer interactions, and then it was even more challenging to later realize he no longer knew how to use the registers, as systems were being changed and improved around him. And yet they still didn't have a budget or a concrete plan.
"I don't know that a budget would have done us any good then because unless you know or can expect what your revenues are, it's hard to do…We were pricing things as low as we could and scraping by, and somehow making a profit."
They continued to explore new product lines by placing very small orders to make maximum use of their limited space. They might buy four or five sweaters that matched skirts they were carrying. Beginning with trial and error orders they gradually organized their merchandising activities into categories so that representatives could build strong relationships with vendors and apply a higher level of expertise to merchandising decisions.
By staying actively involved in every aspect of the business, and actively listening to customers and employees, John and Faye were able to make good decisions, though they don't deny they were also lucky. "We had a business that had wheels and we just had to learn how to steer it. There were so many times that we made the right decision and we didn't know we had until afterwards…" In the absence of long-term plans or projections it seems the Coopers never expected it to go a certain way, and they certainly never expected it to be easy. As a result, they remained actively engaged and responsive at moments when other business owners may have taken a step back to enjoy their success.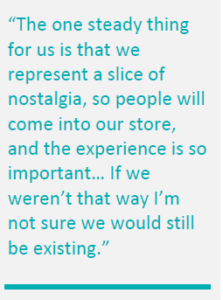 Phase III: Incremental Growth
Mast General Store was was becoming well-known, and gaining a reputation for breathing life back into the Valle Crucis community. During the next phase of growth John started to get "save us" appeals from other businesses. These appeals were timely:
"By the mid-eighties we were experiencing so much traffic that we knew we needed another location, I didn't know where it was gonna be."
They tried a couple of smaller stores, but they weren't working. The downtown Boone location had been a once-thriving department store, and the community was feeling the impact as the store failed. It turned out to be a perfect size and location. The house they moved into when they finally converted the apartment above the original store into offices and storage was sold to finance the purchase of the downtown Boone location with some additional bank financing. "That was a hard decision to make because we were essentially doubling in size, and we'd only been in business seven years." Once again the Coopers took the leap, and it paid off. They made no renovations, and pulled together what they could from the existing stores to come up with the merchandise mix. They moved some employees and hired the rest.
About five years later they would surpass $5 million in revenue. The impact that Mast General Store could have on a community was undeniable, and this emphasis on community would remain at the core of Mast's business model.
"The one steady thing for us is that we represent a slice of nostalgia, so people will come into our store, and the experience is so important, and what we present is a different experience for our customers and our guests, and if we weren't that way I'm not sure we would still be existing, if we had followed other big box type of theories about how you do it…we wouldn't be an experience like we are. We have been immune to downward trend cycles…our market's grown."
Phase IV: Fine Tuning
It was time to start solidifying some aspects of the business, and to hire specialists for the first time to deal with the increasingly complex projects of buying, bookkeeping, and HR. A new strategy began to emerge: get to know a potential new community, scout a unique location, and open another store. Mast General Store was creating systems that could now be transferred to other locations under a very special set of circumstances.
Cultural immersion was really important when bringing on so many new employees. Predictably, Mast did most of their hiring from within. Bringing in specialists often didn't work, resulting in culture clashes. John and Faye and their existing employees knew that culture was an important part of the operation, but in order to grow it would need to be formalized to some extent through the onboarding process and ongoing training. Even today "Visits with Faye" at all the Mast General locations help communicate the story and values to newer employees, and to maintain the relationships that contribute to company culture. Staff know their ultimate goal is to get customers to come back with a friend rather than close an individual sale.
In addition to organizational culture, supplier relationships remained incredibly important for this phase of growth. Early partners included Woolrich as well as the local "hardware man". Buyers are still trained to be genuine to the store and product mix and to have real conversations with suppliers. Mast General Store strikes a fine balance between honoring relationship history and making decisions that are right for the business. The rule of thumb is that when something is working, keep doing it. Today buyers maintain relationships with vendors by region, and the Director of Development and Design helps each new store design a merchandising strategy specific to their market.
In addition, for the last 15 to 20 years every paycheck has been sent out with an internal newsletter introducing new products and staff picks. This internal communication system makes the sales training process ubiquitous, and keeps every employee in the company involved in the store's primary business activity: retail. Four staff training summits take place each year for different buying areas, and buyers always encourage vendors to provide special deals for staff.
During the fine tuning phase the Coopers were enormously successful, but they also made their first big mistake, opening in Chapel Hill without taking enough time to get to know the community. They quickly recognized their error and were able to sell the building for a profit to a company that still thrives in that same location today. All the fixtures from the store were put into storage and used at future locations. It turned out to be a great year for other stores because the merchandise was transferred just in time for Christmas shopping.
They had thought it was a no-brainer. Lisa says, "We try not to think that anymore when we open up a new store." They did not yet have the infrastructure to support a business three hours away, and the building was also much smaller than their other footprints. It wasn't an instant failure, but it was wearing on them. 
This was not the first time that John Cooper learned the advice and warnings of others were not always worth listening to, but he also learned that mistakes were excellent learning opportunities. "In business you have to face yourself and say I made a mistake and I've gotta back up and change directions." Mast needed to stick to what it was good at – relationships and authenticity – and not rush their expansion.
Lisa describes a current list of 80 to 100 towns that would like Mast to come to their downtown. The Director of Development and Design fields all those calls and emails. Typically they will go visit the downtown to get a feel for the place and its energy, looking for complementary businesses nearby like restaurants and lodging. According to their strategy they must be able to buy every building they move into in order to have sufficient control over costs, and there have been towns in real estate prices made this impossible. They also like to see a 5-year plan for each town's downtown area to know that they will be working together with other entities to bring economic activity to the area.
When asked who Mast General Store considers to be its chief competition, Lisa Cooper quickly says, "The Internet!" She goes on to explain that the nostalgic and practical merchandise mix is not currently available from any other retailers. In actual towns there is nowhere quite like the Mast General Store. On top of that, adding shopping choices to downtowns often seems to function as a complementary rather than a competitive force; each store draws more recreational shoppers to the area and increases each retailer's chances of acquiring new customers.

Phase V: Giving Back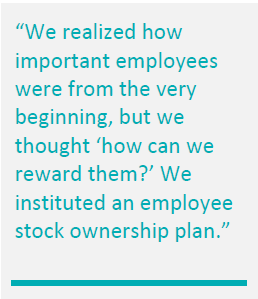 John Cooper's approach to working with employees had always been simple and straightforward. Choose employees who represent you well, make sure they understand how to treat customers, train them, then step back and let them do their job. Praise them for doing their job well, and if they make a mistake, gently let them know.
"We had a philosophy that…if you're working 40 hours a week, you're thinking about that business about half your waking hours, and you need to create an environment that makes people enjoy, and want to come to work, and that was our culture, and it has evolved successfully to still be that today."
If you talk to Mast General Store employees today they won't hesitate to tell you it is a great company to work for, and to cite examples, from benefits to how they are encouraged to give back to their community. Once Mast General Store was stable, the focused shifted internally:
"We realized how important employees were from the very beginning, but we thought 'how can we reward them?' other than giving bonuses and so forth, and congratulating them and making them feel good about their work, but we instituted an employee stock ownership plan…"
The employee stock ownership plan established specific benchmarks for growth. All businesses are accountable to their employees, but the ESOP made it especially apparent: "So we have to grow every year or the ESOP doesn't grow…" And Mast General Store has been quite successful at achieving that goal, seeing growth every year but two years during the recession, and quickly gaining it all back following those two years. Even more impressive is the fact that their stock never depreciated. These are successes that would be desirable for any business, but they were driven in this case by a sense of responsibility to employees as the most important stakeholders.
Both John and Lisa Cooper emphasize that for businesses trying to make it in small, tight-knit High Country communities, giving back is a crucial part of your brand identity. Lisa emphasizes that outreach and community involvement can't wait until the business is up and running. Business owners need to reach out and give to local groups and organizations as early as possible, establishing a reputation as a company that cares. In this case community ties may have actually saved Mast General Store during a couple of hard times, in addition to making employees feel proud to work there long before the ESOP was implemented.
Phase VI: What's Next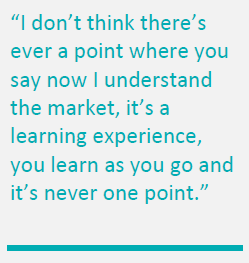 With growth, Roots has consistently provided raises for its employees, and everyone is paid a living wage. Staff members now get four weeks of paid vacation a year, and the company has a quarterly profit sharing system and gives its employees a health care stipend.
Throughout the growth of the company, it was important for John and Faye to really get to know their customers and their community in order to make sound business decisions. Getting to know any new market takes time, but this may be especially true in small towns and rural environments.
"I don't think there's ever a point where you say now I understand the market, it's a learning experience, you learn as you go and it's never one point, 'Oh now I get it'. We learned what our customers wanted, and… our knowledge grew…"
John Cooper remains committed to slow and steady growth, and he does not believe the company has peaked.
"That's why I think we've been successful is that we have been very cautious about it, realizing that if we had grown exponentially, and I think there's been people who wanted to buy our company because they saw great growth opportunities, they said well it does well here why couldn't it do well in 20 other places?…The culture would have been lost if we hadn't grown at a slow pace, and that's all we want to do…we're not after all the money in the world. In fact over the years we didn't really pay attention to what the bottom line was. "
Mast General Store is currently working to fine-tune its e-commerce  to make it a larger part of the business. While it is growing steadily it still represents only a small portion of overall revenue.
"Just because you can be successful at one thing doesn't mean it transfers to a different type of operation…just because we're successful with brick and mortar doesn't mean we're successful with online…"
Understanding that success doesn't necessarily transfer, the learn-as-you-go model remains incredibly applicable to e-commerce, and Mast Store's future in general. While there is certainly some demand for authenticity in the growing world of online retail, the leadership team is applying the same principles to online retail that the Coopers used to make merchandising decisions in the early days: observe and respond to customer behavior, expand offerings as revenue allows.
Lisa Cooper considers e-commerce to be a highly complementary arm of this business, and a tremendous learning experience. Mast General Store re-launched its website a couple of years ago to try to reflect the feel of the stores and the brand. She finds that some of their most loyal customers are actually using the website for pre-shopping research before they visit the stores in person, and certainly some new customers are being driven to the physical locations as a result of digital marketing efforts.
Over the years John Cooper's role has changed considerably, and while his daughter Lisa Cooper now runs the company, having worked her way up from an entry level buying assistant, he fills an advisory role, devoting considerable time and energy to community projects like the Appalachian Theater. Cooper believes that the less he makes decisions, the better the company seems to get. He has full confidence in his leadership team, many of whom have been with the company for decades. "They may ask me my opinion occasionally, and occasionally I may have an answer before I say 'what do you think'…but that's my standard response." This is perhaps the best exit one can hope for in a wildly successful family business that was never overly concerned about the bottom line.
Find Mast General Store online at mastgeneralstore.com.