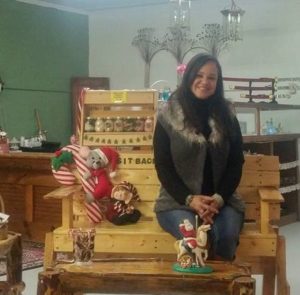 Yvette Palacios is living her dream. Since she was five years old Yvette has been a collector and dreamed of opening her own store.  In late 2016 she celebrated the grand opening her  new store, the Unique Antique Station in Ellensboro, NC.
Her dream of owning a business almost didn't happen. When she was shopping around for a loan to buy the building where Unique Antique Station is now located, she kept getting turned down. "It wasn't that I had bad credit," she explains. "I had no credit. I paid for everything in cash – my house, my cars. I thought I was doing the right thing by not having debt." Finally, Wells Fargo referred her to Mountain BizWorks where she secured a small business loan. 
"We did so much with that money, you have no idea," Yvette says. ' We bought the building, did all the repairs, stocked up our inventory and opened our doors on December 15, 2016."  Since then she hasn't looked back. Word of mouth is attracting people from all over North Carolina and she now rents space to 15 vendors. "It's going great," she says. "We are already planning to bring on new vendors and expand to have auctions."
Learn more about Mountain BizWorks small business lending and learning.