When RockGeist first reached out to Mountain BizWorks, they were a small business with six employees, a small workshop, with a goal to make custom gear for long distance endurance biking, also known as bikepacking. It's a pretty niche market, but one with significant potential. Greg Hardy, Rockgeist's founder, decided to focus his efforts on producing quality products made to endure challenging environments designed for the passionate and driven endurance cyclist. 
For Greg, it quickly became clear that Rockgeist's struggle was in in producing the needed volume of specialty gear and equipment  to meet the high demand of their customers. Customers had the need, but RockGeist just couldn't quite meet the demand. When Covid-19 hit and cyclists new and old started looking for quality gear to get in their exercise, that demand grew even more. Without capital or direction, increasing production would be an impossibility, and possibly the downfall of Rockgeist, which clearly had great potential.
Coaching, Classes, and Capital
When Greg realized that something needed to happen, he got in touch with Mountain BizWorks. According to Greg, "Having capital isn't enough to find success if you don't know what to do with that capital. So, step one was to focus on education."
Greg was able to take two courses through Mountain BizWorks: Foundations and Waypoint Accelerator. The Foundations course is a start-up business planning course designed to bring budding entrepreneurs together for collaboration, inspiration, and skill-development. For Greg, that meant learning to understand how to meet his individual market and figure out where he stood in the industry: "Foundations taught me how to best service the sport, the customer, and the city. ..I'm not a technical person and I don't have an entrepreneurial background, so Foundations taught me how to actually develop and grow the company into something productive and profitable."  
Greg was also accepted into the first ever Waypoint Accelerator cohort, which focused on growth, evaluation, and goal-setting for outdoor-focused businesses. Here, he learned about strategies for growth, how to generate cash flow projections, increase his customer demographic, and focus on marketing and production. Importantly, he also made connections with many of WNC's experienced outdoor industry leaders. Between these two courses, Greg was presented with the necessary tools and strategies to figure out how to make some extra capital valuable to the brand.
A Focus on Growth and Profit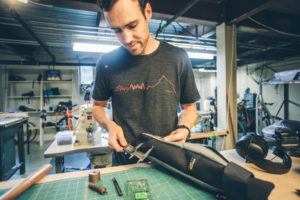 Along with the courses, the business loan meant RockGeist's team was able to increase their production ceiling, increase the diversity of their products, widen their customer base to increase profits and range, and grow a clientele all across the world with global shipping. They were also able to figure out how to further improve the quality of their bike gear, finding materials that were waterproof and  more durable. It transformed into a great product, and one that Greg was incredibly proud of. 
With Mountain BizWorks comprehensive business support program, RockGeist combined the valuable knowledge from entrepreneurial support classes with the secure business loan to focus on growth, expansion and improvement that brought their company success they'd never seen before.  Placing the tools into the hands of entrepreneurs doesn't mean much if they don't know how to use them, and Mountain BizWorks understands the connection between having capital and knowing what to do with it. This is just what makes the difference between survival and growth when it comes to any business.
Finding Success with Mountain BizWorks
With financial support and direction, paired with industry experience, awareness, and knowledge, Greg was able to see tremendous growth and success. If you're looking to get direction for bringing growth to your business, reach out to Mountain BizWorks today.  
To learn more about RockGeist, please visit their website: rockgeist.com