How Asheville Mobile Cigar Lounge, Classic Smokes, Transformed from Life Dream to Reality
The adage about "love what you do and you'll never work a day in your life" may be an old saying, but it still bears truth to this day. And one of the most notable ways individuals have found a way to turn work into something they love, is to start by turning something they love into work.
Lamont Bellamy, owner of Classic Smokes Mobile Cigar Lounge, crafted a whole new business concept from just this desire – to transform a lifelong passion into a profitable, successful business.
Turning an Old Concept into Something New
While sitting in a cigar lounge one afternoon, Bellamy first pondered over the reality of his own dream of one day owning his own cigar lounge. It certainly wouldn't be an easy feat, and there's plenty of competition in the market. So what might make his potential business idea flourish?
It was in 2019 that he thought of the potential of creating a mobile smoke lounge, and one year later, he began the process.
It started with the transformation of an old 1973 Airstream. Bellamy ripped out the interior, installing all the essentials that might be needed to create the true atmosphere of a luxurious, smooth smoking lounge. He installed leather seats and benches, a television set, a humidor, a refrigerator and even a sound system. He even furnished it with traditional low lighting and wood paneling and flooring, all trademark characteristics of the finest cigar lounges. With an awning installation and seating for the outside space, he'd masterfully created a full mobile cigar lounge, ready for local events.
Today, he's built himself a new, up-and-coming business with it's own brand of clientele. With a focus on events, Bellamy's lounge is rented out for weddings, corporate events, private parties, and public events alike. He's even developed a key connection with local breweries, offering their business the benefit of a pop-up smoke lounge to enjoy while visiting the brewery.
Through the Smoke and into Business
With just this first half year of business, Bellamy has found his new work to be a way to make a living off of something that he loves. Although he loves the work he does and finds it gives him the freedom to work towards growth, it wasn't always easy.
His biggest challenge? "Social media! It's my biggest weakness…Instagram, Facebook, Twitter – that's the piece that is totally different. You have to get comfortable doing it."
Even with this biggest hurdle, however, he's found success with a number of Mountain BizWorks' resources. "We used the Marketing resources. We used the Strategy resources. I met with a [Mountain BizWorks] coach a few times before starting the business, in terms of structure. I did the business plan with them, and the layout, profits and five year projections."
For Bellamy, the most valuable asset from Mountain BizWorks was the lending resources: "The Catalyst Program [was the most valuable]. The terms of the loan are friendly. It helps you get started without putting a big crunch on you at first!" With favorable terms such as 6 months of no payments followed by 6 months of interest only payments, no personal guarantees, and parachute grants, the Multicultural Catalyst Fund is designed to remove traditional barriers for entrepreneurs of color like Bellamy.
Growing and Expanding with Mountain BizWorks
With the many resources and lending support from Mountain BizWorks, Bellamy has big plans for the future of his cigar lounge. Based on projections and planning, he hopes to open up a few more mobile cigar lounges, transforming more Airstreams into additional lounges. Eventually, he'd even like to open up a brick-and-mortar lounge to fulfill his vision.
And to those just starting out who maybe can't quite see where their own vision is headed, he says, "To follow your dream, regardless of how many people tell you 'no'. Take it, go with it…and don't give up. No matter how many 'no's' you receive, there's one or two 'yesses' out there."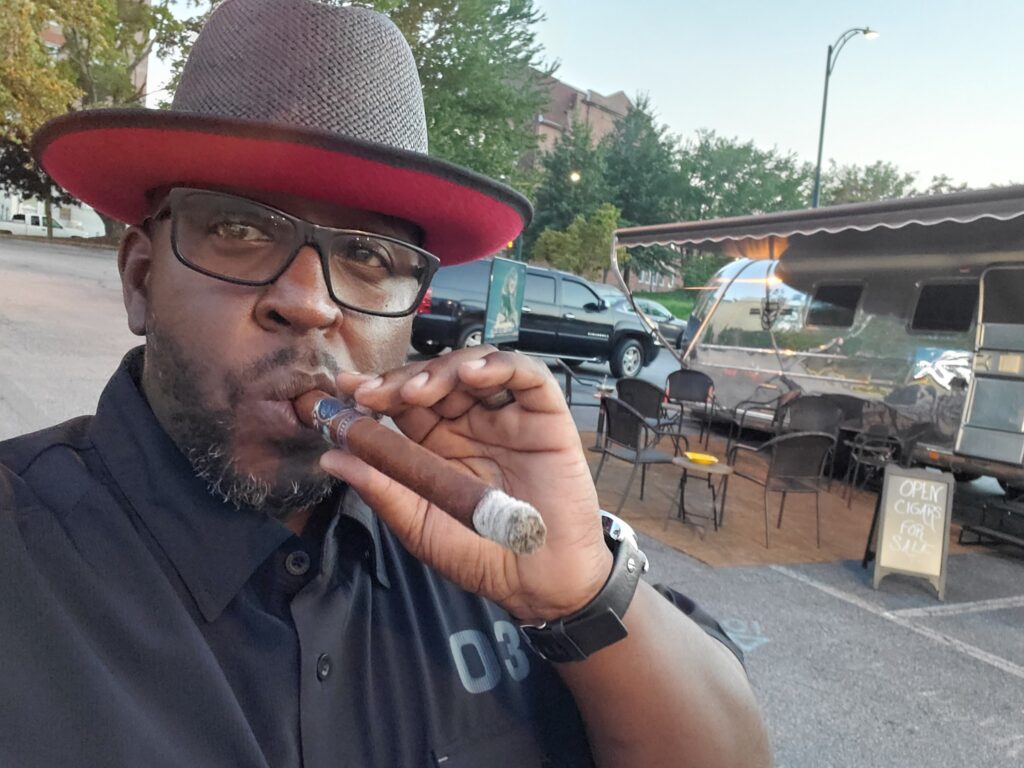 Lamont Bellamy, Owner, Classic Smokes