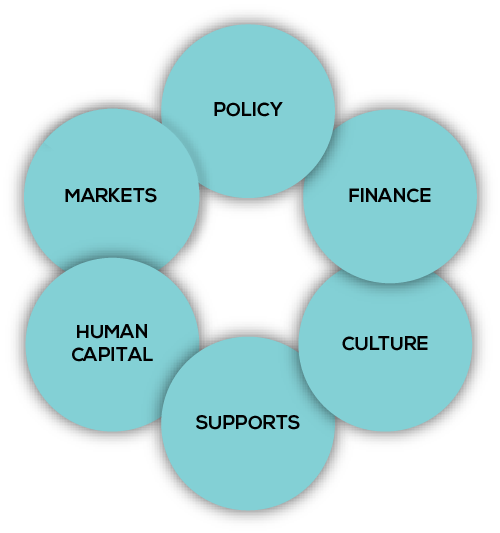 Qualitative Data
What we were looking for with the qualitative analysis was to get a picture of the local economy for businesses owned by people of color and to determine opportunities to develop a stronger support system. A summary of the findings from interviews with African American and Latinx business owners, business support organizations, local government, and other anchor institutions by scrolling over the Venn diagram.
Policy
"Not convinced that political leaders see the value in advancing the Asheville economy by expanding minority busnisses."
"It would be great if an Earned Income Disregard (EID) program could be re-introduced. It allows for the freezing of rent for 1-2 years, if HACA residents are receiving more income."
"Educational system needs to have a greater focus on developing entrepreneurial minds."
Finance
"Capital is the number one challenge for minority businesses."
"Need more creative sources of capital. Criteria (i.e. credit, collateral) is too great of a hindrance."
"Funding may be available, however navigating the system and overcoming barriers is a challenge."
Culture
"The Asheville region's minority business culture needs to also be understood from a historical perspective. Most of the business class has come from outside of the area. A divide exists in the community that needs to be bridged."
"Need more minority entrepreneur leadership in advancing minority entrepreneurship."
"Minority businesses need more resources they can access for practical advice from other business owners."
Supports
"It might be helpful to create a coalition of minority businesses. A minority chamber would be nice, however, it would be great if the existing Chamber could establish a program that placed more of an emphasis on inclusion."
"Minority startups need to see other successful minority businesses and learn from them."
"Minority businesses do not feel welcome at the Chamber of Commerce."
Human Capital
"The availability of minority bussinesses in the region ready, willing, and able is very low.How can we increase the pool?"
"Personal budgeting education is needed. Many are nervous about branching out, although research has shown a net positive gain over benefits lost.The unknown is scary when additional income may affect food, transportation, and childcare."
"Training modules need to be more culturally relevant."
Markets
"There needs to be more outreach to minority businesses from the largest indeustries in the region."
"Micro sectors are prevelant, but limiting. Difficult to build family wealth. Need a program that helps to transition micro sectors"
"Funding may be available, however navigating the system and overcoming barriers is a challenges."