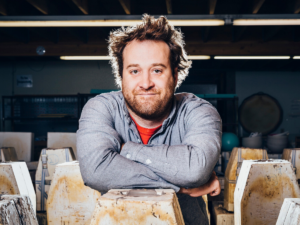 Brett Binford, co-founder and CEO of Portland based Mudshark Studios, will tell his story of how he started his first business and overcame obstacles along the way to go on and eventually found other successful, thriving companies.
Specific to making, Brett will provide an overview of lean manufacturing techniques and how they can apply to your business as you grow from a solopreneur to an employer. Community and company culture are also the cornerstones to your business success and Brett will offer his philosophies and insights regarding this topic for both outward facing branding and internal policies to ensure a happy and safe workplace. 
Brett will share how he positioned Mudshark Studios to be able to adjust to both the operational and production changes necessary to keep his employees safe and his customers happy during this pandemic, and how he had to shift both his business and way of thinking to survive.
Brett Binford, a prolific crafts entrepreneur who has started 10 creative LLC's in the last decade, grew Mudshark Studios with his business partner from their basement into a 17,000 sq. footage studio with 33 full time employees in 14 years. Mudshark has been awarded the American Made Award by Martha Stewart in 2012, Small Business Award in 2013, and honored as one of Portland's budding businesses by President Barack Obama in 2017 during Small Business Week. Brett currently maintains 6 arts businesses and serves on 3 arts education boards.
In Partnership With