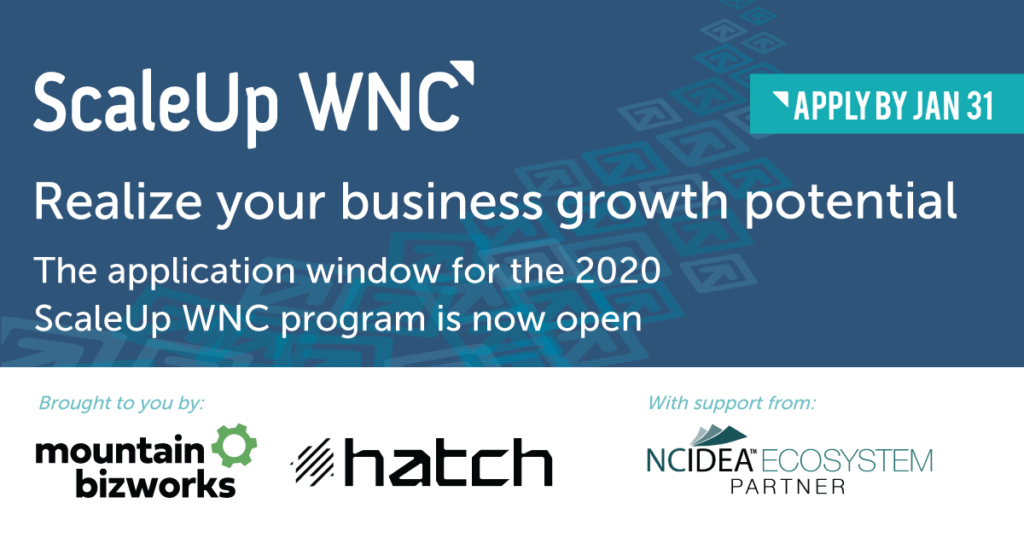 In preparation for the 2020 ScaleUp WNC application deadline (Jan 31!), Mountain BizWorks is hosting six Founder Networking events around the region. Local small business owners with strong growth potential are invited to come out, connect with other growth-oriented entrepreneurs, and learn about the 2020 ScaleUp program – PLUS, all attending founders will have the opportunity to exercise your scale-up mindset by giving a 30 second pitch on your company and a potential growth opportunity. The best pitch as voted on by the audience will win a basket of epic ScaleUp Alumni products (and the admiration of all).
Each session will also feature top notch business advisers, alumni CEOs, and partner resource providers. Founders can bring their biggest opportunities, challenges, or off-the-wall ideas to get immediate feedback from our ScaleUp team and partners. This session is being co-hosted by the MountainWest Partnership.
This event is free, but registration is requested (see below). Founders will sign up to make a lightning pitch at the on-site welcome table.
* NOTE: This event will be held at Nantahala Brewing, 61 Depot St, Bryson City, North Carolina 28713.
Learn more about the ScaleUp program and all of our 2020 program sessions here.