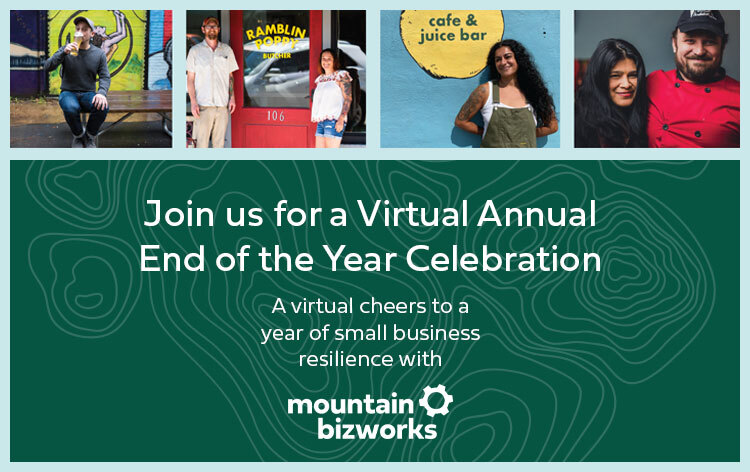 Join us for our annual year-end celebration on Tuesday, December 15 from 5 PM to 6:30 PM. 
If 2020 has taught us anything, it's how to be resilient. Although small businesses have struggled over the past year, one silver lining has been our region's ability to come together and support one another.
With this event, we want to celebrate all of the collaboration and perseverance Western North Carolina has demonstrated this year.
This celebration will feature:
Videos highlighting our client's contributions to the Western North Carolina small business ecosystem
Opportunities to connect with your Mountain BizWorks network of entrepreneurs, staff, and facilitators
A look at the regional economy by Executive Director, Matt Raker
The presentation of the Jane Renfroe Coach of the Year Award honoring our most accomplished coach or facilitator in 2020
For admission to the celebration, please feel free to pay what you wish but we are suggesting a minimum donation of $5. Please RSVP to reserve your spot.
Also as a gesture of gratitude for your support and attendance, all who join will receive an exclusive commemorative sticker.
Whether you're a client, coach, investor, family member, or friend, we're proud you're a part of the Mountain BizWorks community. And, we sincerely thank you for your continued support throughout the years.