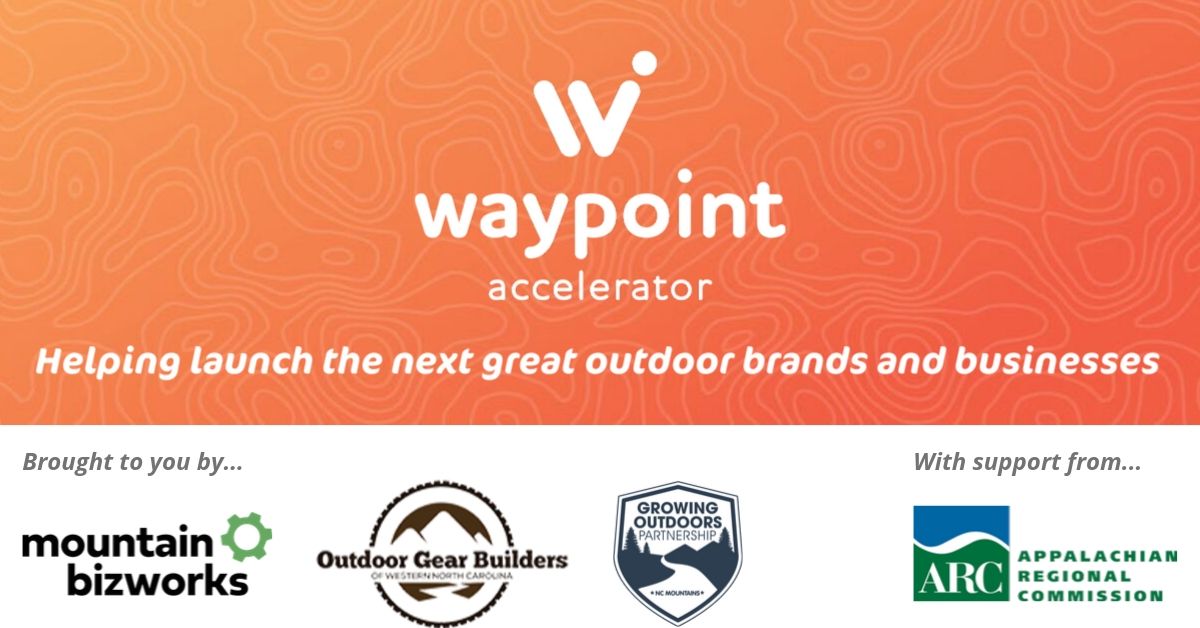 Congratulations to the 10 small businesses participating in the inaugural Waypoint Accelerator program, which launches in September 2019 and continues through March 2020 They were selected from a highly competitive pool of 26 applicants.
Members of the First Cohort – 2019
These 10 companies – half of which are rural – will have access to a 10-session intensive program along with tailored mentorship from more than 40 seasoned advisors. They'll also be pitching at the 2019 Outdoor Economy Conference opening reception and will conclude their program with a special event at the Outdoor Gear Builders' Get in Gear Fest.
Big Weekend
Big Weekend is a recreation and leisure brand featuring the gear you need to max out your next "Big Weekend" with style and ease.
Blue Ridge Hiking Company (blueridgehikingco.com)
Blue Ridge Hiking Company is Western North Carolina's premier guiding service for day hikes and backpacking trips, which operates a retail shop and "The Trail-er" – an Appalachian Trail bunkhouse.
Blyss Running (blyssrunning.com)
Blyss Running is a woman-owned small business designing flattering and functional running apparel for women that inspires their empowerment and joy.
Campa (campa.link)
Campa provides a searchable, filterable, comprehensive list of camps and extracurricular programs with streamlined "one form" registration and payment systems – helping you get your child into the right camp at the right time.
Fifth Element Camping (fifthelementcamping.com)
Fifth Element Camping makes a modular micro camper system for the Honda Element that can be installed or removed in minutes – turning your Element into a home on the road whenever you want it.
OGRE (ogreoutdoors.com)
Ogre builds truck organization solutions for fly fishermen, mountain bikers, kayakers, surfers, snowboarders and other outdoor enthusiasts to maximize their time outdoors instead of preparing for it.
Rent This Rod LLC (rentthisrod.com)
Rent This Rod is an online fly-fishing company that rents high-end fly rods and ships them anywhere in the continental United States.
Rockgeist – Bikepack USA (rockgeist.com)
Rockgeist specializes in custom bikepacking gear tailored to fit the exact shape of your bike with features that you choose.
Shira Forge (shiraforge.com)
Shira Forge produces heirloom-quality axes and knives the way they have been made for generations – forged in the fire and made to be used whether on the trail, in camp or at the cabin.
The Tarpestry Co., LLC (tarpestry.com)
The Tarpestry is a soft and durable weather-resistant outdoor blanket and tarp that puts a layer between you and nature, with style.