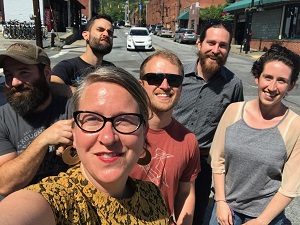 Jodi Rhoden is a burst of energy spreading small business advice and innovation wherever she goes.  She's been involved with Mountain BizWorks in one way or another for nearly 10 years, which has meant good news for the entrepreneurial community in Western North Carolina.
Back in 2008 Jodi took the Foundations class at Mountain BizWorks. She was in the process of transforming her home based bakery into the brick and mortar store we all know today at Short Street Cakes in West Asheville.
As she gained more and more business experience running her business, she began to brainstorm ways she could incorporate her newly acquired business acumen with her activist / social worker past.  "What began to resonate with me is that economic empowerment is a social justice issue," says Jodi. Mountain BizWorks' focus on low-income, minority, women, and immigrant entrepreneurs appealed to her and she saw an opportunity to put her skills to good work.
In 2012 she started teaching the Foundations class she once used to start her business and she still teaches it to this day.  Teaching the class convinced Jodie that small business coaching was her next calling.   In 2016, in order to take on a more active role in coaching and teaching, she sold Short Street Cakes to her employee with a little succession planning guidance from Mountain BizWorks staff.
Jodi is still teaching the Foundations course and kicked off Mountain BizWorks' new High Country Alpine course this spring. She also provides one-on-one coaching to Mountain BizWorks clients. "I really like to work with entrepreneurs on their mission. It is important to really ground into the mission and purpose," she says. "It contributes to the wellbeing of the business and the owner."
Jodi specializes in coaching entrepreneurs involved in farming, the arts, health and wellness, and the arts.  Learn more about the Mountain BizWorks Business Coaching Program.