"We grew up around furniture manufacturing. It's in our blood. It's our passion," said Hunter Munday, one-half of the brother duo that launched Carolina Leg Co., a small business that designs and handcrafts furniture legs and components from materials sourced locally in Western North Carolina. "My dad has his own business – it's Munday Hardwoods – and my brother and I always wanted to start a business of our own."
Growing up near the heart of furniture country in Caldwell County, Hunter and his brother Charlie watched as the once-thriving manufacturing industry declined rapidly with the rise of free trade. But recently, the brothers spotted a new trend – the business of furniture manufacturing was making a comeback. To make the most of that opportunity, they knew they'd need to strike while the iron was hot. So, they set out to start their own furniture manufacturing business.
Accessing Capital: The Barrier to Entry
"We called several banks and spoke to several lenders. But nobody would even give us the time of day – let alone a decent rate," he chuckled as he remembered their early struggles. If they had any hope of getting their business off the ground, they would need alternative access to capital. That's when they found Mountain BizWorks.
After applying for an intake session, the brothers worked closely with Mountain BizWorks through peer-to-peer business coaching. With encouragement from their BizWorks lender and coach, the brothers discovered a market niche with a specific demand that they were uniquely positioned to fulfill. And that demand was for custom handcrafted table legs.
Why table legs? To produce most styles through traditional means, it takes highly trained workers with precise technical skills, expensive machinery, and a whole lot of time. But by tapping into their rich network of industry connections, the Munday brothers discovered how to carry on their family's tradition of high-quality craftsmanship while still delivering reasonably priced products.
Guiding You Every Step of the Way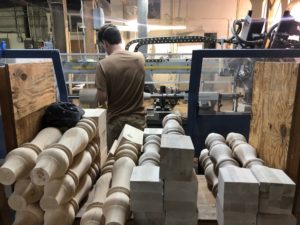 With the knowledge they gained from Mountain BizWorks and their expertise passed down by generations of furniture makers, the brothers applied for a small business loan. "Mountain BizWorks was there with open ears the whole time. They never shut the door on us once," Hunter said. "They asked us lots of questions. It was a process but it was a good one. It helped us, and we got where we wanted to be." And in 2018, the brothers were awarded financing to purchase their first machine.
Finding the Right Path Forward
Success continued to breed success for the brothers. Demand for their products continued to grow, justifying their move into a fully functional shop before their business was even two years old.
"It even had working bathrooms," Hunter laughed as he thought back to their first day in the new shop. They were finally seeing their dream of small business ownership truly become a reality. "Mountain BizWorks is the foundation of our business," he reflected fondly. "We wouldn't have a business if it wasn't for Mountain BizWorks."
Today, less than three years after opening, the Munday brothers are operating out of an 11,000-square-foot warehouse now with nine full-time employees. They're growing their brand, rolling out new products – like modern styles and metal legs – and turning a profit.
Making It Happen
Mountain BizWorks is proud to have been a part of Hunter and Charlie's entrepreneurial journey. You too can go from dreamer to entrepreneur right here at Mountain BizWorks. Take the first step and request your free intake session.