Craft Your Commerce: 2019 Workshop Series
September 12

-

October 24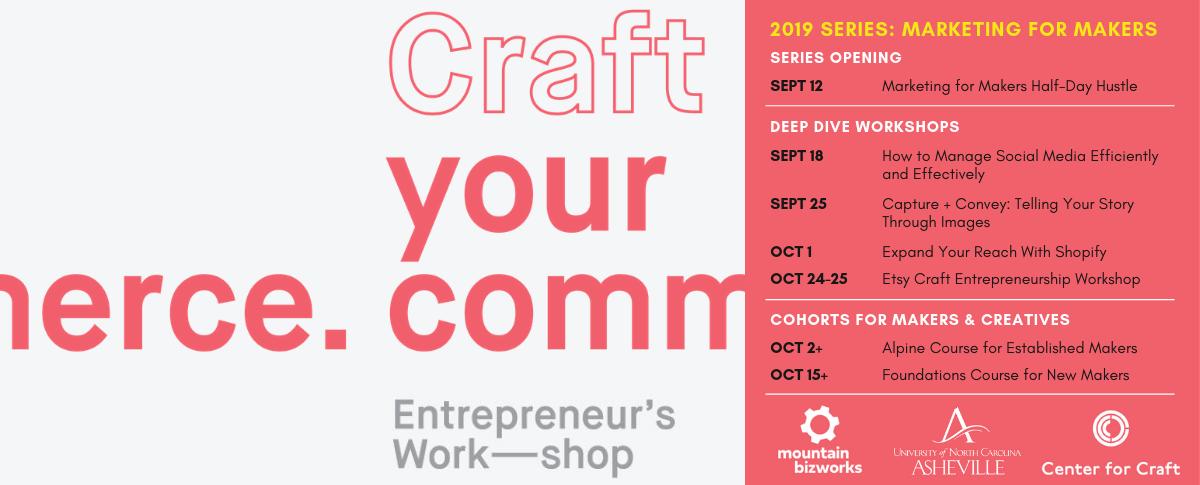 Craft Your Commerce is a Mountain BizWorks-led project in partnership with Center for Craft, UNC Asheville, and area creative entrepreneurs. It aims to connect, elevate and advance craft-centered companies of all kinds through a series of business training workshops and classes designed by makers for makers.
The theme for this year's 2019 Workshop Series is "Marketing for Makers." In a landscape that constantly shifts and evolves, marketing often ranks as one of the top business challenges for makers. As such, we've designed "Marketing for Makers" to be a comprehensive and practical learning journey aimed to increase business reach, visibility and profitability.
The format of this year's series is comprised of three training segments:
We launch with the "Half-Day Hustle" on September 12, a seminar style event that features three short sessions. We will explore the big-picture, strategic view of marketing, engage in a thoughtful discussion on the importance of authenticity, and get an overview of the various online sales platforms where makers "hustle" to grow their business.
The second segment of the Workshop Series involves 4 different, deep-dive workshops covering the following topics: Social Media, Photography, Shopify and Etsy. These hands-on workshops will be led by experts who themselves are creatives or who've had experience working with other creative entrepreneurs.
"Marketing for Makers" will then culminate with our flagship business planning courses, Alpine & Foundations for Makers. These intensive courses are designed to equip creative entrepreneurs with the business skills they need to get going and growing, and will be facilitated within a cohort learning environment made up of makers learning from other makers. 
Although the training segments are offered à la carte, we hope you will take advantage of the Half or Full Series Pass and journey through the entirety of this integrative learning experience.
Learn more about the Craft Your Commerce 2019 Workshop Series events and get your tickets below!
Marketing For Makers: Half-Day Hustle
When: September 12, 10am – 3:30pm
Location: Asheville Masonic Temple
The Half-Day Hustle is an offering of three short, compelling and interactive sessions that will delve into the "what, why and how" of marketing.
Strategy First: Visualizing the Big Picture In Marketing – A 2-hour interactive talk on the implications of the business' model and strategy on marketing. Led By: Regina Connell. 
Marketing In The Age of Authenticity – A Lunch Speaker Panel featuring experienced makers on how they approach marketing while remaining authentic. Moderator: Lisa Zahiya. 
Growing Sales Online – An overview of different online sales channels used by makers, including Etsy, Shopify, Squarespace and Instagram. Moderator: Regina Connell. 
Deep Dive Workshops
September 18, 1-5pm – How to Manage Social Media Efficiently and Effectively
Featuring Sarah D. Benoit, Co-founder and Lead instructor of JB Media Institute and President of Creative Original, Inc.

Social media has the power to grow your business, build brand recognition, and make real connections with the people you know need your products or services. Learn how content banks, editorial calendars, and scheduling tools can help save time and to test specific platforms that may enhance your social media workflow in the future. 

September 25, 10am-12:30pm – CAPTURE + CONVEY: Telling Your Story Through Images
Featuring Nicole McConville, acclaimed Asheville-based photographer and craft publishing veteran.

Explore accessible DIY tips that will improve your approach to image creation and your finished results. This workshop dives deeply in tho WHY as much as the HOW to prepare entrepreneurs to think about visuals in a way that is empowering and practical.

October 01, 2-6pm – Expand Your Reach With Shopify
Featuring the PRC Applications Team: Jesse Michel, Designer and Front-End Developer. Patrick Conant, Software Developer.


Ready to take the next step in growing your online business? This workshop will show you how to use proven strategies to increase your sales, build brand loyalty, and engage customers using Shopify. 

October 24-25, 9am-6pm – Etsy Craft Entrepreneurship Workshop
Offered in partnership with Knoxville Entrepreneur Center. Led by Alaina Smith, owner, maker and designer of Cold Gold.

This 2-day workshop teaches artisans how to utilize Etsy, an online global e-commerce platform for handmade goods, to successfully grow their business. Learn best practices on topics that impact new sellers most, including time management, branding, pricing, shipping, and photography.

Due to limited space, this free workshop is not included in the Half or Full Series Pass.  Separate sign-up required. Full Details here.

Craft Cohort Courses

Alpine for Makers

5 Sessions over 5 Weeks
Dates: October 02 – October 30 (meets every Wednesday morning)
Time: 9am-12pm

Facilitated by Lisa Zahiya of Zahiya Studios. This 5-week cohort experience will aid existing makers and creative entrepreneurs in integrating learnings from the workshops into their business practices.

The course will guide participants through a comprehensive assessment of their experience producing and selling to date, while also addressing the opportunities and challenges currently at hand. 

Foundations for Makers

6 Sessions over 6 Weeks
Dates: October 15 – November 19 (meets every Tuesday afternoon)
Time: 1pm-4pm

Facilitated by Annie Price of Birds Eye. This 6-week cohort experience will aid new makers and creative entrepreneurs in integrating learnings from the workshops into their business practices.

In 18 hours over 6 weekly sessions, participants will gain a clear aerial perspective of their business operations, financials, research and development, and marketing strategies. They will leave the course with a comprehensive business plan, a clear vision for their business, and concrete tasks for future work.
Pricing & Ticket Packages
The Craft Your Commerce 2019 Workshop Series involves a half-day conference, four separate deep-dive workshops, and two courses suited for emerging and existing makers. The program offerings are available a-la-carte, but they're also designed to thematically complement each other and we encourage you to consider participating in the full series. Get your tickets below.
Scholarships
Limited financial need-based scholarships are available. To apply for a scholarship please continue to this form. UNC Asheville students are also eligible for scholarships; contact Brent Skidmore for details.