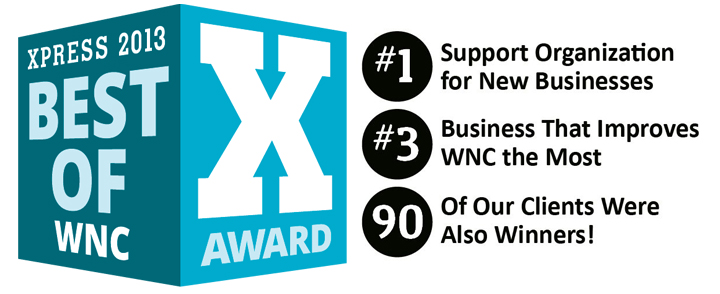 For the past couple of years, we have tallied up how many of our clients are recognized in the annual Mountain Xpress "Best of WNC" Awards.
This year, we are thrilled to announce that a record-breaking 90 clients were voted by readers to be the area's top restaurants, shops, breweries, service providers, artists, and businesses of all kinds! The list of those clients is below. It's so satisfying to work with such wonderful entrepreneurs who inspire us every day with their ingenuity, ambition, and persistence.
In addition, this year we are doubly honored to actually have been recognized ourselves! Mountain BizWorks was voted:
We're pretty darn excited about this. How excited? Just ask the staff!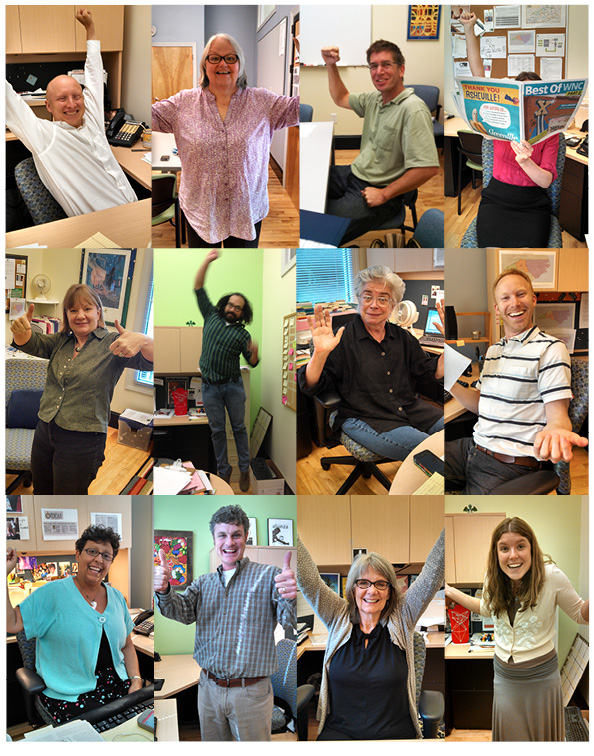 Thanks to Mountain Xpress for being an unwavering champion of local small business; and to all of the readers who voted for their favorites. And congratulations to our client businesses who make WNC such a wonderful place to live, work, explore, create, eat, drink, and play!
[one_second] Accent on Books
Alison Downey
Allard & Roberts Interior Design
Altamont Brewing Company
Asheville Community Acupuncture
Asheville Greenworks
Asheville Sandwich Company
Barbara Zaretsky
Ben's Tune-Up
Billy Jonas
Blind Pig Supper Club
Bouchon
Buchi Kombucha
Canine Shear Heaven
Carmel's Kitchen & Bar
Carol L. King & Associates, P.A.
Center for Holistic Medicine
Chai Pani
City Bakery
City Lights Bookstore
City Lights Cafe
Clasique Acupuncture & Pilates Studio
Danny's Dumpster
David Earl Tomlinson
Early Girl Eatery
Elementality
Farm & Sparrow
Farm Burger
Firestorm Cafe & Books
First Light Solar
French Broad Chocolate Lounge
Gabe Aucott
Girls on the Run of WNC
Gourmet Chip Company
Guadalupe Cafe
Gutter Helmet of WNC
Gypsy Queen Cuisine
Happy Medium
High Five Coffee Bar
Hip Replacements
Hops & Vines
Imladris Farm Jams
Izzy's Coffee Den
Jack of the Wood
Jonas Gerard [/one_second]
[one_second]Julie Armbruster
Kat Williams
Laughing Seed Cafe
LaZoom Tours
Limones
Looking Glass Creamery
Lulu's on Main
Marcie The Balloon Fairy
MG Road Lounge
Nest Organics
Never Blue
New Dawn Midwifery
Nick & Nate's Pizza
Organic Mechanic
Over Easy Café
Printville
Roots + Wings School of Art and Design
Roots Organic Gourmet
Rosetta's Kitchen
Salsa's
Second Gear
Ship to Shore
Sow True Seed
Spinning Spider Creamery
stephaniesid
Studio Zahiya
Sunburst Trout
Sunny Point Cafe
The Admiral
The Junction
The Littlest Birds
The Lowdown
The Soapy Dog
Ultimate Ice Cream
Va Va Voom
VegHeads Drive-Thru
Villagers (formerly Small Terrain)
Wedge Brewing Company
Well-Bred Bakery & Cafe
White Duck Taco Shop
Wickwire Fine Art
Willow's Dream Salon
World's Best Carrot Cake
ZaPow!
Zuma[/one_second]
We've done our best to include all of our winning clients, but if we have missed anyone please let us know! Send an email to anna@mountainbizworks.org.