For Kathy Stickler, owner of Healthy Traditions, starting a business wasn't so much a choice, as a responsibility to other mothers – and a way to heal after the tragic death of her son. Today, Kathy's Black Mountain store offers a wide range of natural remedies and alternative treatments, from herbs and supplements to iridology and biofeedback.
Earlier this year, Kathy was facing a big business decision and wasn't sure what to do. So she came to Mountain BizWorks for guidance. Over a few short months, she's inspired us with her great strides toward a healthier, more sustainable business.
When and why did you start your business?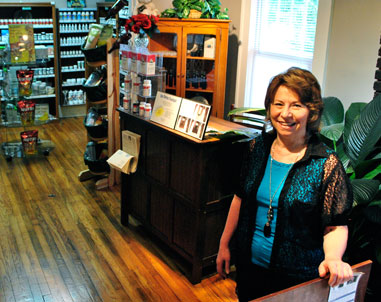 I had a daughter who went through cancer treatments when she was a child; and a son who was injected with a fluorescein dye for a routine retinal exam when he had an anaphylactic reaction. He passed away in 2003 after three years in a coma.
After the experiences with my children, I made a vow to teach young mothers the good old grandma way. If people know how to take care of themselves and their children, they're not as helpless as they think they are. The bottom line for me is education.
Initially, I started helping my family and friends, but I opened the store in 2007, right before the economy crashed. Luckily, it was recession proof because I opened it with my daughter, who has a clothing boutique – Krista Anne's – so we halved the overhead, and we could take turns catching up financially.
Why did you decide to sign up for Business Boot Camp?
I had the option to purchase the building I'm in, but I was unsure if I could keep the business going. I needed help making this big decision, and my landlord suggested that Mountain BizWorks might be able to help. I needed direction, and Business Boot Camp seemed interesting, so I decided to give it a shot.
What changes have you made to your business as a result of Boot Camp?
I'm thinking totally differently now. This business was a mommy passion for me; I would feel bad for people who were hurting, so I would do more for them at my expense, and it was hurting me. But now I know that I have to put value on what I've been through and the integrity of my business. I can have goals and make a living and still love and help people.
I used to feel so alone because I've run this business myself – all the bookkeeping, ordering, appointments, etc. Because of Boot Camp, I've hired a project manager and bookkeeper and girls who make appointments. It's more than a team – it's like-minded people who are coming together with the same passion, and now I don't feel alone. Before, I felt like I was sitting in a closet and didn't know how to think. Boot Camp has helped me know how to think outside the box.
On the first day of Boot Camp, there were all these young people, some had pink hair, and here I come, this senior citizen who's starting a new chapter in life. I'm thinking, "Do I fit in here?" Then the facilitator had us stand up to introduce ourselves. I was shrinking inside, and it took every bit of courage. I had a huge fear of talking in front of people, and one of the facilitators said I might want to look into Toastmasters. I went online that day and signed up, and I'm getting ready to do my second speech!
These people have accepted me, and Boot Camp has given me courage to do new things – to get out of my comfort zone.
 * * * 
Applications for the next Business Boot Camp are due October 4th. Not sure if Boot Camp is right for your business? RSVP for our free Sneak Peek on September 19th.
Learn More About Boot Camp