Funding will help launch and grow small businesses across the NC mountains region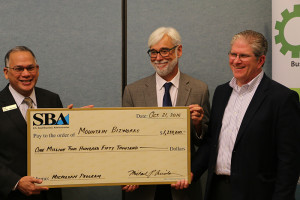 (Asheville, NC): Small businesses, which make up the foundation of Western North Carolina's economy, are in for a boost as Mountain BizWorks receives $1.25m in new funding from the U.S. Small Business Administration to expand an important loan program. With small business lending from banks continue to decline nationally, this funding will help Mountain BizWorks address a growing demand for its loan programs.
"Mountain BizWorks has done a terrific job in meeting the financing needs of many small businesses in western North Carolina," said SBA North Carolina Deputy District Director Mike Arriola. "This additional funding will help them support even more small business owners to start or expand their businesses as well strengthen the overall economy and create jobs."
The new funding will help expand Mountain BizWorks' microloan program which provides small loans ranging from $500 to $50,000. Proceeds can be used for typical business purposes such as working capital, or the purchase of furniture, fixtures, machinery, supplies, equipment, and inventory.
"The SBA's Microloan program has been an essential part of Mountain BizWorks' small business finance toolkit for nearly a decade," said William J. Carrington III, chair of the Mountain BizWorks board of directors. "Since 2006, this program has helped to fund over 230 local businesses and this new funding will add at least another 50 businesses and meet a growing regional need."
According to FDIC data, there has been a post-recession decline in small business banking across the country. Since 2007, bank loans under $100k are down 8% and loans between $100k-250k are down 22%. These trends are increasing demands on small business and entrepreneur specialist organizations like Mountain BizWorks. By July of 2015, Mountain BizWorks' loan activity had surpassed that of all of 2014 and is on track to be the largest lending year in the history of the organization.
Mountain BizWorks is a U.S. Treasury certified non-profit community development financial institution (CDFI). For 25 years, the CDFI has been making business loans ranging from $1,000 to $150,000 to small businesses in Western North Carolina who may find it difficult to secure funding from banks and other traditional sources.  More than just loans, it also provides business coaching and advisory services to its clients to increase their success. Since inception, Mountain BizWorks has helped launch and grow 782 local businesses, provided $10.7m in loans, and created over 3,600 jobs.
###
 About Mountain BizWorks
Mountain BizWorks has been developing small businesses and economic justice in Western North Carolina for 25 years. Our primary platforms are lending and learning, specifically designed to grow small businesses and create economic opportunity for all. We proudly create access to capital for start-ups and existing businesses in spite of barriers to traditional lending sources. We support the entrepreneurial spirit by offering individualized coaching and training. Most importantly, we turn the dream of business ownership and success into a reality. Learn more about Mountain BizWorks at mountainbizworks.org.
FOR IMMEDIATE RELEASE:  OCTOBER 21, 2015
CONTACT: MATTHEW RAKER – matt@mountainbizworks.org | 828.808.2873