Paul and Sarah Klassen have a Hit with Hendough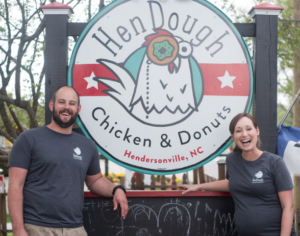 Confession. I am not a donut person. I mean, it is sugar and yeast so I won't say no if they happen to be around, but Hendough has changed all that for me. Donuts from  Hendough are in a word – amazing.
You may have guessed by the name, Hendough is located in Hendersonville, NC affectionately called Hendo by its residents. The name itself was a flash of genius for owner Paul Klassen. "It was a mic drop kind of moment," he says laughing as his wife, Sarah, jokingly rolls her eyes. "I'm going to hear that story for the rest of my life," she says
Paul Sarah opened Hendough last year with a simple menu of donuts and fried chicken (Get it? "Hen" "dough.") This writer can tell you that chicken and donuts may seem simple, but these two former Biltmore chefs have made them deliciously complicated.
As the couple made the decision to leave their chef lives at Biltmore and enter the world of entrepreneurship, they found a near perfect space for their restaurant. They turned to Mountain BizWorks for a small business loan to secure A location. They also met with a Mountain BizWorks coach who helped Paul and Sarah get a clear picture of their finances past, present, and future. "The good news is we underestimated our first year. We surpassed our own projections and then surpassed the projections our coach had laid out," says Sarah.