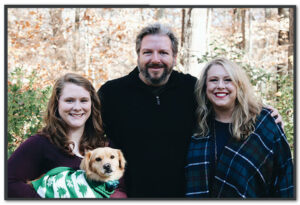 Coffee and doing good are just a way of life for Seth and Heather Stevens. It all started back 16 years ago when  Seth and Heather open a coffee shop in Boiling Springs, NC. The coffee shop was a hit and seven years later the couple had opened four new shops. After purchasing a coffee roasting machine, the couple began selling wholesale coffee to other coffee shops in the area. The roasting business was so good, the couple sold their retail coffee shops in 2008 to focus solely on coffee roasting.
They don't simply sell coffee though. They are in the business of helping their clients succeed. When a coffee shop contracts with Broad River Roasters, they also receive free business growth consulting. "From the very beginning we wanted to be more than just company our clients send checks to," says Seth.
The Stevens also partner with nonprofits through their Your Cup Counts program. Nonprofits can create a campaign to raise money selling Broad River Roasters coffee. "We have all types of nonprofits participating in this program," says Seth. "Heather and I have always been involved with nonprofit work so this made sense to us. It is part of who we are and how we live our lives."
In 2017 Broad River Roasters is set to grow and do even more good in the world. With a business loan from Mountain BizWorks, the couple plans to grow staff, purchase equipment, and ramp up their marketing to reach an even larger market.
Learn more about Mountain BizWorks small business lending and learning.