New funds will increase access to capital for entrepreneurs in WNC's underserved communities
(Asheville, NC): Mountain BizWorks, a non-profit small business lending and training organization based in Asheville, has received $2.9 million in new federal funding to help meet rapid growth in demand for small business loans across Western North Carolina. Three separate awards make up the total funding amount including a $1.25 million investment from the Small Business Administration, a $900,000 award from the US Department of Treasury CDFI Fund and a $750,000 investment from the U.S. Economic Development Administration.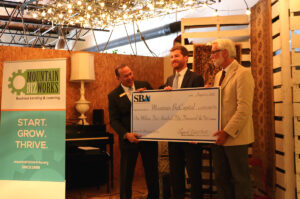 The announcement was made Tuesday morning by Congressman Patrick McHenry's Chief of Staff Jeff Butler. SBA's Deputy District Director Michael Arriola, Buncombe County Commission Chair Brownie Newman, and Asheville Vice-Mayor Gwen Wisler were also all on hand to support the announcement and spoke to the importance of expanding jobs and economic opportunities in underserved communities.
"We are really happy to have assisted Mountain BizWorks in getting this support so they can help people grow jobs and businesses across WNC," stated Jeff Butler, Congressman McHenry's Chief of Staff.
Over the last three years, Mountain BizWorks' small business lending activity has grown from 61 loans made totaling $1.1 million in 2014 to 114 loans made totaling $3.3 million in 2016. Over 80 percent of the loans have been to women, minority, rural or low income entrepreneurs. The lending increase is reflective of expanding entrepreneurial activity across the region, established small businesses seeking to expand but still not able to qualify for traditional bank financing, improving economic conditions, and other factors.
Mountain BizWorks board chairman Michael Mooney adds, "Small businesses are the primary driver of our region's economy, and especially so in our economically distressed communities. This funding will allow us to better meet the capital needs of entrepreneurs that aren't quite bank ready but still have great potential to grow the local economy."
The new federal awards along with partner matching funds will help Mountain BizWorks expand its capacity to serve the needs of aspiring and existing small businesses underserved WNC communities. Over the next 3 years, the funding will enable the agency to make at least $8 million in new loans which is expected to result in 250 new businesses started, over 500 expanded, and over 700 jobs created and retained. The funding will additionally support Mountain BizWorks' continuation of diverse lending, bolstering the growth of women-owned and minority-owned business.
"This funding is an important part of our community saying, 'if you have an idea and are willing to roll up your sleeves, you can start an enterprise'," stated Buncombe County Commission Chair Brownie Newman.
The Tuesday announcement was held at East West Vintage Rentals, a unique event space in Asheville's "East-West Asheville" neighborhood and a Mountain BizWorks alumni. BizWorks' executive director Patrick Fitzsimmons noted, "This is a great place to make this announcement as this neighborhood exemplifies how local entrepreneurs can create thriving and vibrant communities when they have access to affordable financing and training." Fitzsimmons then recognized several other East-West Asheville business owners and Mountain BizWorks alumni present including Short Street Cakes, Allied Wheel and Alignment, Archetype Brewing, Taco Billy, OWL Bakery, Second Gear and others.
Detailed information on Mountain BizWorks' small business lending and training programs is available online at www.mountainbizworks.org or in person at their Asheville and Boone offices.
###