Announcing the Start. Grow. Thrive. Conference
A Global Entrepreneurship Week event in WNC
(Flat Rock, NC): During one week each November, thousands of events and competitions in 160 countries inspire millions to engage in entrepreneurial activity while connecting them to potential collaborators, mentors and funders. Powered by the Kauffman Foundation, Global Entrepreneurship Week which will be held November 13-19 this year is supported by dozens of world leaders and a network of more than 15,000 partner organizations.
Here in WNC, local entrepreneurs will be celebrating Global Entrepreneurship Week at the 2017 Start. Grow. Thrive. Conference which will be held on Tuesday,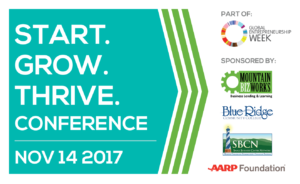 November 14 at the Blue Ridge Community College (BRCC) Conference Hall located in Flat Rock, NC. The one-day conference will bring together existing and aspiring entrepreneurs to connect, learn, and advance WNC's small business economy. The conference cost is complimentary due to sponsor support including Mountain BizWorks, BRCC Small Business Center, and NC Small Business Center Network.
"In addition to ample time to network with peers, this year's agenda is packed full of area entrepreneurs and business leaders that will be sharing their real world insights and lessons learned," states Ben Kish, director of the BRCC Small Business Center.
The conference agenda will include topics such as success stories and tips from local successful entrepreneurs on starting and scaling businesses in WNC; access to capital connections with banks, investors and small business lenders; snapshots on the state of entrepreneurship from communities across the region; an overview of NC's new crowdfunding laws and how they can benefit small businesses; and a legal workshop on what type of incorporation to choose for a new business.
"We're excited to have Olivia Collier, the Appalachian Regional Commission program manager for NC, as our lunch keynote," adds Patrick Fitzsimmons, executive director of Mountain BizWorks. "Olivia brings a unique perspective from being at the front lines of investing in entrepreneurial development both here in NC and across the Appalachian region."
For more information and to register: http://bit.ly/StartGrowThrive
Click here to see all of our upcoming small business classes & events