"June 12th was the day that Ryan called me and told me I was approved for a loan. That day I knew I had secured the opportunity to make my dream happen," said Nian Avery. This October Nian opened his funeral home, Avery's Memorial Chapel, and the team at Mountain BizWorks could not be more proud. Nian's bright smile, professional attire, and the calming nature of the beautiful and sophisticated memorial chapel are sure to make Avery's Memorial Chapel a premiere funeral home in the Asheville area. See the space for yourself.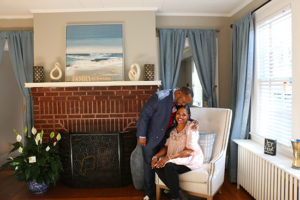 Avery knew at a young age that he was "called by God to serve as an undertaker." Now, after over twenty years of working in the industry, Avery is well prepared to open his own memorial chapel. In reflected on the opening process, Avery said, "I knew it would take money and I knew I didn't have any." Nian approached traditional banks for capital and was continually turned down. In moments of discouragement Nian remembered his father saying, "You've never heard of a 3Up have you? It's because the founder of 7Up, failed the first six times before becoming successful."
Eventually, Nian followed up on a referral he received from a bank lender to Mountain BizWorks. When Nian met Ryan Jaskot, one of Mountain BizWorks' small business lenders, he stated that Ryan "guided me through the process and the paperwork," and after working with Ryan to strengthen his loan application, "Mountain BizWorks was able to fund my dream when no one else would."
We congratulate Nian on the opening of his new business and wish him much success.
Learn more about Avery's Memorial Chapel here.
Learn more about Mountain BizWorks' small business lending program here.