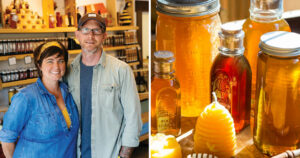 Aron and Jessica Wehr are the husband and wife duo behind Wehrloom Honey, a cutting-edge meadery, honey, and craft gift retailer in Robbinsville, NC. The couple came to Graham County and fell in love with the pristine, remote western county of NC, but quickly found that it would be difficult to find fulfilling employment.
After Aron bought Jessica two bee hives for Christmas about 5 years ago they fell in love with caring for bees. This brought Jessica and Aron to begin a home-based honey production that they sold at local farmers markets. Over a handful of years of experiencing continued strong demand for their honey, Jessica and Aron decided to open a retail shop in Robbinsville.
In early 2015 Wehrloom Honey simultaneously opened their retail store and significantly increased their product line expansion. In this year Wehrloom Honey quadrupled their sales from the previous year. In 2016 Wehrloom Honey continued to grow with adding a honeybee observatory and pollinator gardens on sight allowing visitors to see the whole picture of how the nectar becomes honey, and what goes on inside a honey bee colony.
After opening their doors, Aron and Jessica worked for two and half years to be able to manufacture and sell mead, an ancient brew made from honey, growing their retail shop into a tasting room. To be able financially to make the transition into selling and distributing mead, the couple came to Mountain BizWorks for a small business expansion loan.
Today Aron and Jessica have been able to grow their business from a small hope spun business into a retail store and manufacturing facility employing 3 full time and two part time employees where they harvest and produce over twenty different honey, skin care, mead, and beeswax candle products all made with natural resources derived from honey bees.
Moving into the future Aron and Jessica aim to make their space a meadery that has a honey store, rather than, a honey store that happens to sell mead. As well as growing the reach of where their mead can be purchased. Wehrloom aims to continue to provide customers with high-quality products that are produced using environmentally sensitive and sustainable practices while focusing on the health and wellbeing of our bees.
Learn more about Wehrloom Honey here!
Learn more about Mountain BizWorks loan program here!