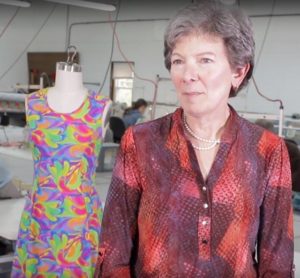 Judy Gross, an entrepreneur, innovator, and outdoor enthusiast, is the brainchild behind LightHeart Gear. Tucked in the industrial district of Arden, North Carolina, this outdoor apparel and tent manufacturer is a true family operation for Judy, where she works alongside her son and husband. At LightHeart, they strive to provide ultralight hiking and camping gear of the highest quality, made right here in the Blue Ridge Mountains.
Trekking through the Appalachian trail, Judy noticed the unnecessary bulk and burden large tents and excess gear inflicted on her fellow adventurers. Inspired by what she saw, she set out to develop efficient and lightweight tents without sacrificing quality or style. That is when Judy invented and patented The LightHeart Tent; an innovation in which trekking poles can be repurposed into the foundation of their tents, saving you packing space and weight. The trekking poles offered by LightHeart Gear, called ridgepoles, expand so that you can insert them into your tent as supports. They offer extensions to other trekking poles as well, so you can buy one without the other. LightHeart Gear also offers custom sewing on their rain apparel to ensure that you stay dry and comfortable in harsh weather conditions. This is just another example of how LightHeart Gear goes above and beyond industry standards to keep their adventurers safe, happy and healthy.
A true pioneer, Judy Gross has used her manufacturing business to redefine outdoor excursions for her many customers. She has pioneered a movement based in ultralight hiking, providing the opportunity to those who are unable to hike with heavy packs and bringing relief to experienced trekkers. With Judy's gear, all you need is the spirit of adventure and a love of the wild to get you out in nature.
In 2o16 Judy decided to take on the next pervasive problem which she saw in the world of backpacking, the lack of high-quality technical clothing for women. With this new opportunity to scale her product line, Judy enrolled in Mountain BizWorks ScaleUp WNC course in 2016. LightHeart has the opportunity to change the face of adventure gear in the mainstream. Now anyone, regardless of outdoor expertise, can take to the wild without breaking their back.  
Learn more about ScaleUp WNC here.
Explore LightHeart Gear's innovative products here.