Local Businesses Assisted by Mountain BizWorks Provide Significant Community Impacts in 2019
Each year Mountain BizWorks surveys clients who have been active within the past year to hear what they have to say about our services and the Western North Carolina economy. The 2019 Mountain BizWorks Local Business Impact Survey collected data from 291 entrepreneurs, representing a response rate of 32% of the 878 Mountain BizWorks clients that were eligible for the survey. Overall, the 2019 results clearly demonstrate how locally-owned small businesses are significant contributors to the economy including job creation as well as broader community impacts. 
These local business owners created and retained 1,250 jobs and started or expanded 175 businesses. The number of jobs created in WNC are congruous with surrounding regions. Small businesses are the driving factor behind employment opportunities in our economy.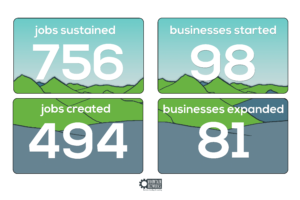 Locally-Owned Businesses Show Increasing Community Impact
Beyond job creation, small business owners are actively working towards making the community in which they work and live a better place. From interpersonal relationships to local government to the economy, local businesses develop their neighborhoods and country at large. According to the Small Business Administration, local businesses generate 54% of U.S. sales. They offer diversity, innovation, and a unique part of the well-loved WNC culture. This data proves small businesses retain local dollars and are civically engaged. These are the leaders who are at the forefront of building our strong communities.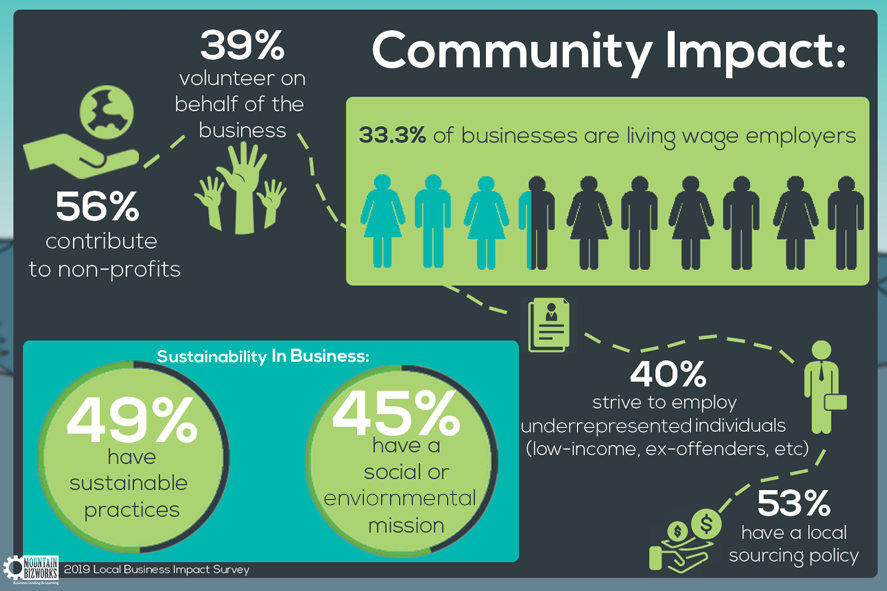 Opportunities & Challenges
What are entrepreneurs saying about the WNC economy? Local small business owners report the region is growing with strong support of local. They would like to see a continuation of sourcing local, taking care of employees, and more professional development opportunities. Challenges they saw revolved around affordable housing, tourists not buying local, corporate competition, and access to capital. 
We believe these findings are valuable to share to help you make informed decisions. We have partnered with organizations who are carrying out an instrumental change in the specified fields. Internally, we are actively working to expand our lending program to make access to capital more available and tailoring our advocacy work to include these concerns. 

A Strong Entrepreneurial Community
Mountain BizWorks clients were evaluated in three categories: income growth, increase in business revenue and increase in business profitability. Responses from the survey showed that 31% of entrepreneurs experienced an increase in income of over 5%, 64% had an increase in business revenue, and 56% saw an improvement in business profitability. This increase in income, revenue, and profitability indicate our economy is healthy and creating broad-based economic opportunities.


To assess the success of the current learning programs offered, we wanted to know if our clients experienced an increase in knowledge and/or business connections. 
According to the results, 83% of respondents said their business knowledge increased and 81% increased their business connections. While our community is strong, there is still room for growth, continuous support of local, and improvement for employees.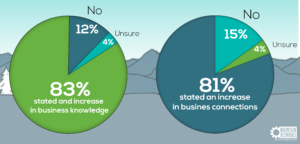 Assessing Our Future Program Direction
We have seen an increase in client request around succession planning and online classes. 
More than half of WNC businesses are now owned by people aged 50+. We've been experiencing a growing number of requests related to business exit strategy. 56% of respondents said succession planning would be useful. We are ready to help YOU plan for and navigate your exit strategy. 
Going Digital 
While 61% of respondents said they prefer classes in-person, 18% would rather online. We want to support everyone, thus are bolstering our online offerings. We just launched our first online course: Introduction to Investment Crowdfunding. Click here to access this free class! 
A Big Thank You
Thank you to all those who participated in the 2019 Annual Impact Survey. If you would like a more detailed briefing on our findings, please feel free to contact susan@mountainbizworks.org. 
Created by Lilley Washburn and Collin Huske