Taking Big Steps in the Business of Shoes
Like so many small business owners, Tim Green, the owner of Sole82, was hit with unprecedented circumstances when his brand-new business was just months old. Opening his shoe and apparel store at the start of 2020, he soon found himself figuring out how to survive the coronavirus pandemic to keep his business dream afloat. 
Not only did his business survive the shutdowns, but the business was able to reach profitability in just six months.
And even better, the store just moved to a new location in downtown Asheville with the help of the Multicultural Catalyst Fund, to boost the store's capacity for foot traffic and bring an increase in revenue. 
The Concept Behind Sole82
In 2017, Tim began to recognize that the market for designer sneakers had great potential in the area. He started out small. With just a single closet for storing inventory and his cell phone to create and post content and manage sales, his work began as an online retail business.
His focus was simply to bring himself an additional source of income to supplement his work as an electrical tester for a local manufacturing firm. Those aspirations soon grew as he realized the additional opportunity for his business.
With his background in illustration, he discovered he could create unique, personal designs on clothing using his laser fabric printer. Soon his business expanded from just shoes into apparel.
Tim did the research, consulted with his sister on his business model, and developed a sound business plan. In 2019, He eagerly signed the lease to his first location on Merrimon Avenue in Asheville.
The Right Business Model and the Right Partnerships
Fashion has always meant to make a statement. Which is the genius behind Tim's business model. The market for designer shoes has been consistent. Plus, the ability to produce custom-designed t-shirts that are sold directly to the consumer, as well as custom wholesale t-shirts has a massive reach. People love having the ability to generate their own individual apparel. Tim brings that right to them. 
Another key to Sole82's success is the offering of both an online retail shop and brick-and-mortar store. With this approach, his customer reach is endless. 
With the business model in place, Tim also brought in his own connections. With major brands like Footlocker, Nike, and Adidas, he sought out to develop those partnerships locally so he could buy direct from multiple brands to bring to his own retail shop. 
Tim's latest partnership is the one that's going to propel him into greater growth. To further expand his connections and knowledge, he's a new participant in the Catalyst Cohort through Mountain BizWorks, a program that focuses on connecting entrepreneurs of color and expanding business knowledge. This not only serves as a valuable resource for support, but it is a powerful way to build connections and skills. 
In addition to the Catalyst Cohort, he was also able to take advantage of The Mountain Community Capital Fund. Sponsored by the city of Asheville and Buncombe County this fund is especially intended for borrowers whose main barrier is a lack of collateral. By removing that barrier, the collaboration allows owners, like Tim, to find the financial support without having to risk his valuable assets.
Preparing for the Next Steps for Sole82
Sole82 has survived a trying economy and eagerly looks forward to its bright future. With the new opportunities being brought forth by his hard work and drive, Tim is excited to show off his new shop in downtown Asheville.
For Sole82, that next level is a big step towards success!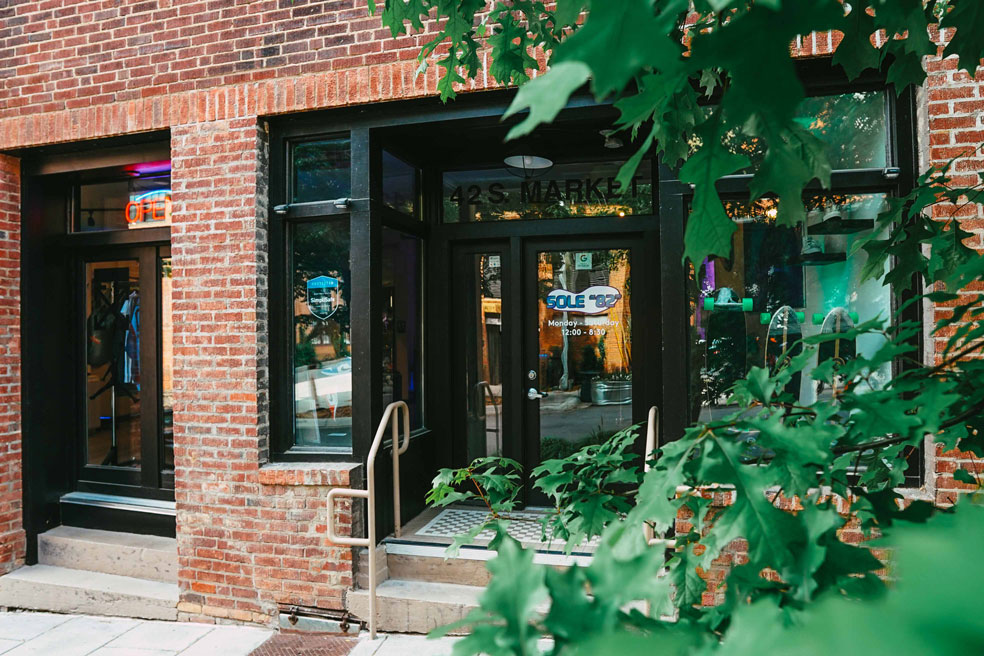 Stop by Sole82 at 42 S. Market St. Asheville, NC 28801