The Five-Year Journey of Asheville Tea Company
When it comes to the foods and goods we eat, the growing standard is farm-to-table. Consumers, eaters, restaurant visitors, increasingly want to know where the food on their table was grown. Every year, more and more restaurants and stores are skipping the grocers and markets and going direct to the source, their local farm. Menus offer farm-to-table vegetables, fruits, and meats, and serve locally brewed coffees and beers. One thing that's missing from the farm-to-table menu? Locally-sourced tea!
As an avid tea drinker, Jessie Dean, owner and founder of the Asheville Tea Company, saw this gap and realized the business potential. So in 2017, she decided to jump at the opportunity to invest in something she felt passionate and motivated about. Nearly five years later, her journey as a business startup has transformed into a growing, thriving local success story.
Support from Start To Finish
It's safe to say that the Asheville Tea Company is nowhere near it's finish yet with even more growth still to come on the horizon. Dean attributes the success to support and collaboration in a variety of ways.
There's the support from other like-minded, budding entrepreneurs. There's the support of the local community, both in emotional and financial support. It's something that Jessie has attributed the company's success to, "I feel really proud of the relationships we've created, and to have this amazing team – the people we work with are incredible – I feel lucky. Everyone [we work with] from our employees to our investors, mentors, farmers, and other local businesses that we collaborate with."
Support and Collaboration with Mountain BizWorks
During the last five years of the company, Jessie notes the significant role Mountain BizWorks played along the way. 
She's worked her way through a series of courses through the company, starting with the Alpine course back in 2020, which helped her identify what she needed to focus on to grow her company. From there, she took the ScaleUp program, just in time to focus on the company's growing success, as well as the Invested course, which provided capital through crowdfunding, and most recently, the Lean Relaunch course, which helped her pivot during COVID.
"For me, personally, the ScaleUp course was the most game changing course that I participated in. It was exactly what I needed at exactly the right time to lay the foundation of the business and where I want it to go. It was instrumental for me," she recalls.
Passionate Work with a Positive Impact
Today, the Asheville Tea Company has 7 employees on staff, a combination of full time, part time, and internship. Their tea is being sold online and in markets, shops, and restaurants across North Carolina. They collaborate often with other small, local businesses and nonprofits in Asheville, developing mutually beneficial and supportive relationships.
With locally sourced tea leaves, the company's profits are circled right back into the community – when Asheville Tea Company finds success, success gets reinvested to those around them. Not to mention, with collaborative efforts with the Southern Appalachian Highlands Conservancy, their impact moves further into the environmental and conservation realm.
For the Asheville Tea Company, what started as a passion project has transformed into a successful business with tremendous local impact.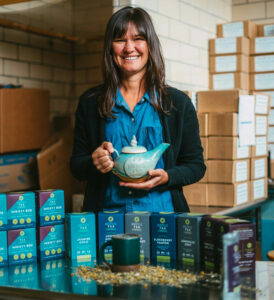 Jessie Dean, Owner & Founder, Asheville Tea Company