Mountain BizWorks' 2021 Local Business Impact Survey garnered responses from 471 local small business owners from across Western North Carolina. This represents the largest number of participants ever and we are very grateful for everyone's input – especially amidst the ongoing pandemic challenges.
This year's survey covered a few key areas:
How are businesses doing as we emerge from the pandemic and what are their needs or recommendations for how the American Rescue Plan Act funds can best address ongoing small business impacts

What's needed to continue to build a vibrant and inclusive local economy across WNC

What level of job creation/retention, business creation/expansion, and other economic impacts are we seeing from local businesses utilizing Mountain BizWorks' services.
A summary of key results and findings from each topic area follows. Where applicable, we also highlight some notable variations on certain questions based on geography, gender, and race/ethnicity.
Lastly before we dive in, please keep in mind the survey responses cover impacts and perspectives from the 12-month period ending June 2021. The Delta variant really took hold in July and August and certainly adds a level of increased uncertainty and headwinds for the pandemic recovery.
How are local businesses doing as we emerge from the pandemic?
The survey shows that only one-third of businesses have recovered to pre-pandemic revenue levels, however businesses' outlook has significantly improved in recent months, to the extent that 60% of respondents rated their financial health as 'fairly sound' or 'very sound' (up from only 18% in December 2020). In general, this suggests that many business owners have regained a sense of stability and see a path to recovery, even if they aren't all the way there yet. At the same time, the data also points to some pockets of ongoing distress that we should be aware of and consider in ongoing relief efforts.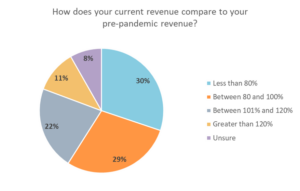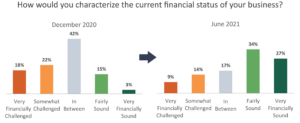 The below chart highlights variations in business revenue recovery levels by segment. It's clear that rural-based businesses and businesses owned by people of color are recovering at a slower pace.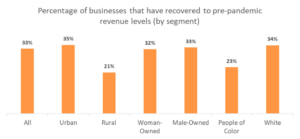 Similarly, rural businesses and those owned by people of color were also more likely to rate their financial health as "challenged" or "very challenged".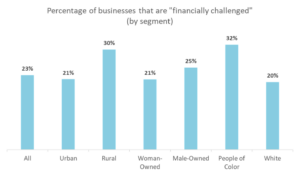 Business size (number of employees) also has a strong impact on business outlook. One quarter of businesses with 5 or fewer employees rated themselves as financially challenged, double the rate of the next closest size classification.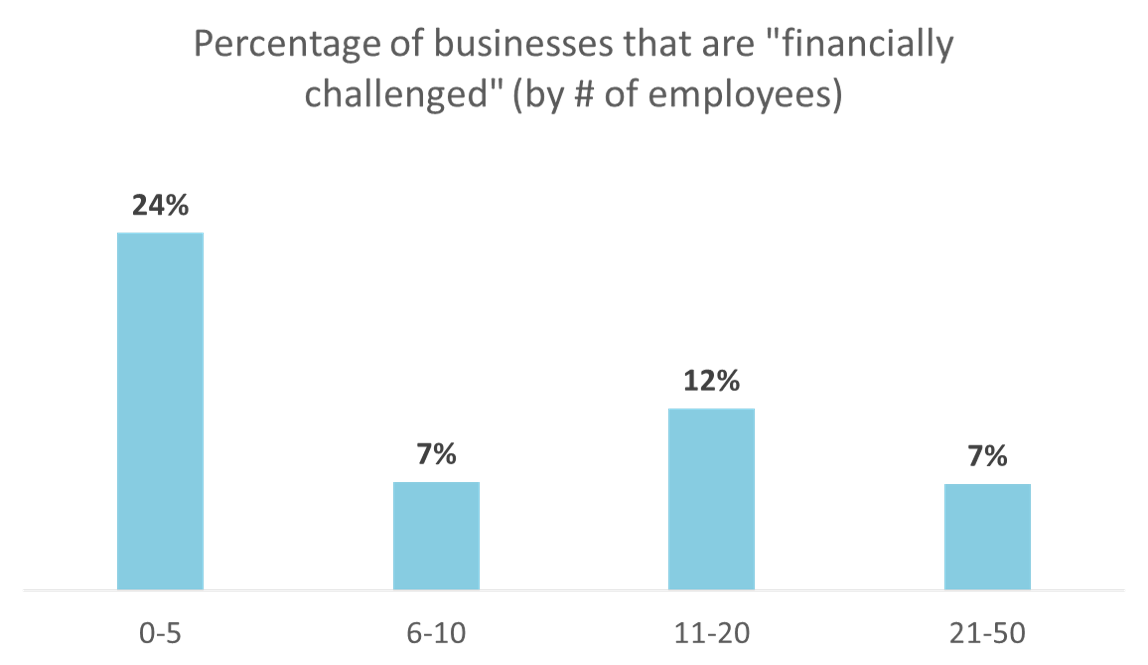 72% of businesses reported being fully open, 26% were open with limited hours or capacity, and 2% were closed (note: we expect the survey participation rate would be low among closed businesses). Notably, women-owned businesses are 10% less likely to be fully open than their male-owned counterparts.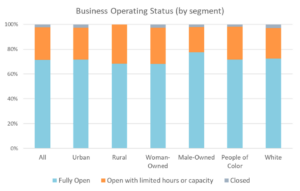 Small business priorities for American Rescue Plan Act funding
As North Carolina and all counties, towns, and cities in our region are programming their recovery funding allotments from the $1.9T American Rescue Plan Act (ARPA), we wanted to know what local businesses see as the top priorities. The top three recommendations included:
More targeted relief.

Grants are needed over loans, and especially for the arts, restaurants, and gyms.

Help finding workers.

Demand is growing but businesses can't find the staff they need to meet it.

Affordable growth capital.

Businesses are seeing new opportunities coming out of the pandemic and could benefit from making expansion funding easier and more affordable to access.
Beyond these items, there is also strong support for i) online marketing and tourism promotion support, ii) investing in affordable/workforce housing, iii) improving broadband and transportation, iv) public safety and mental health support (especially in downtown Asheville), and v) access to affordable health care.
What are the most significant needs to further a vibrant and inclusive local economy in WNC?
Here at Mountain BizWorks, we're currently doing a strategic refresh on our goals for the next 3 years, so we were very interested in understanding what local businesses owners see as the most pressing needs – or opportunities – to further the vibrancy and inclusiveness of our local economy. Again, there were three top themes that stood out head and shoulders above the other recommendations and were very consistent in responses from across the WNC region. We should note these were also strong priorities a few years ago when we last surveyed on this question, however they were even stronger this year and reflected an increased sense of urgency to find solutions.
An affordability crisis is squeezing local businesses.

Across the region, respondents shared a pressing need for more affordable housing. Local businesses directly connected this issue to the challenges of being able to find workers and pay living wages. In addition to housing, local businesses are concerned about rapidly rising commercial rents and property costs. Combined with lack of access to affordable health care, a lack of low-cost employee parking (mainly in downtown Asheville), and rising local taxes/fees (in some areas), these overlapping affordability issues are the biggest area of concern for local businesses.

Ensuring access to capital at reasonable rates

was the 2nd highest rated need. Respondents noted capital needs especially for growth, startup, and purchasing commercial real estate.

Finding employees

and skilled workers is a growing challenge. This was an issue pre-pandemic and it's even more so now. Tailored workforce training for key local business sectors was cited, as well as the connection between attracting workforce and having available affordable housing.
Other frequently mentioned needs included:
Opportunity through

advancing equity and inclusion

and expanding support and resources available for Black and Brown business, women, and other marginalized communities.

There's a strong call for

better support, marketing, and networking

for our local small businesses & a real feeling that local governments are prioritizing big business over the needs of the small businesses that are the bedrock of our communities

A real need for smart infrastructure investment from broadband to water/sewer to parking to green space preservation

Small business technical assistance and training

remains a vital need

Opportunities for our local businesses to

think regionally

with many smaller mountain towns seeking more investment and having more affordable space, available workforce, and less congestion (the inverse of many Asheville area challenges)

Greater

support for the arts

is needed.

Asheville-specific

needs:

Downtown Asheville businesses are very concerned about public safety, homelessness and mental health, and cleanliness

Many businesses stressed that tourism is vital but that it feels out of balance in that it's currently growing in ways that erode conditions conducive to local businesses rather than reinforcing them.
Small business, outsized impact
Numerous studies have shown that communities with a higher proportion of locally-owned businesses fare better through economic recessions and rebound faster. The rich interconnections, attunement to community needs, and local control provide greater resilience, adaptability, collaboration, and innovation – all vital capabilities to have during a global pandemic. At Mountain BizWorks, we've seen this first hand throughout the past 18 months and have been honored to be able to work closely with so many WNC small businesses throughout the pandemic, including those needing resiliency assistance and those seeing new opportunities. This last section of the Local Business Impact Survey results looks at the impacts these 471 businesses are having and specifically those attributable in full or in part to Mountain BizWorks services.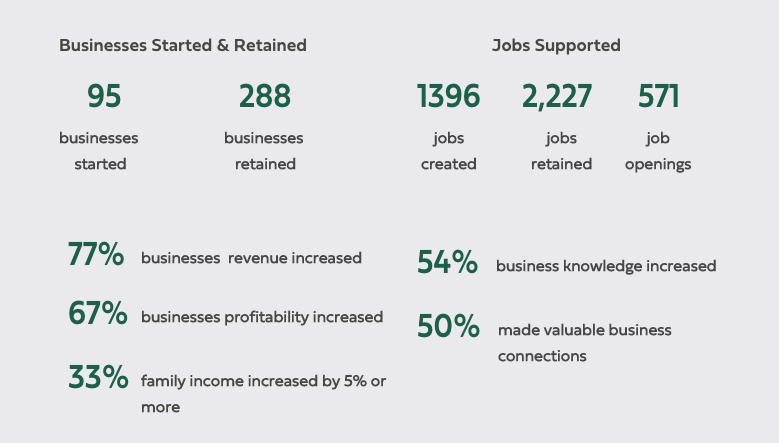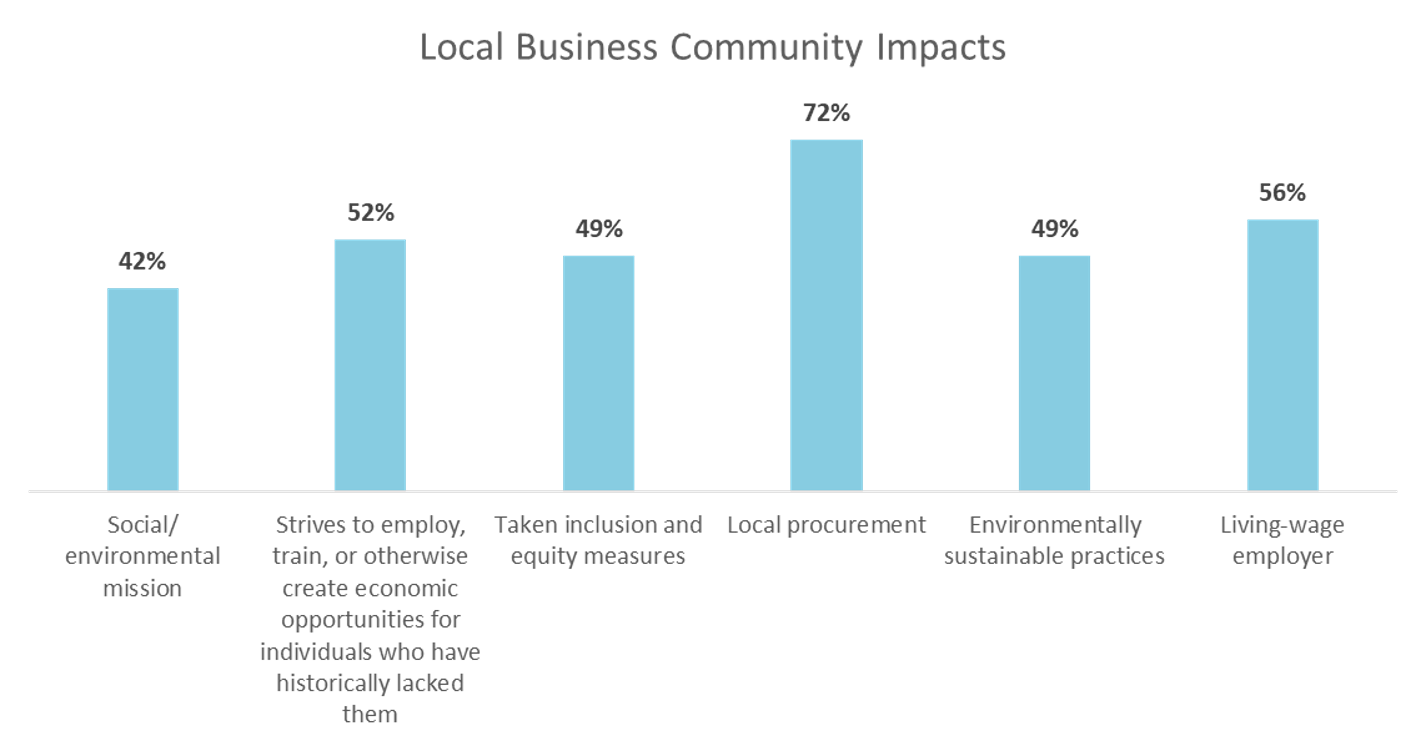 A special thank you to our 2021 Summer Opportunity Interns Kiana Washburn and Shahad Mustafa for their contributions to this year's Local Business Impact Survey.