Summarized findings from the 2022 Local Business Impact Survey reflecting input from over 500 WNC small business owners
Every summer, Mountain BizWorks conducts the WNC Local Business Impact Survey to better understand the current state of small business and to assess the impacts of our programs. This year's survey again carried increased significance as local businesses rebound from the acute challenges of the pandemic. We received responses from 551 local businesses, a new record for the survey. A summary of key results and findings follows.
Key Findings
Local businesses created 1,023 new jobs and 160 new businesses were started with assistance from Mountain BizWorks services, reflecting continued recovery and a wave of new business activity as we exit the COVID19 pandemic.
At the same time, only 44% of responding businesses have recovered to their pre-pandemic revenue levels, so there is much more progress needed and recovery is uneven across business segments and demographics (see additional detail below).
Inflation is a headwind with 80% of small business owners experiencing moderate-to-serious impacts due to rising prices and supply chain issues.
Local businesses define "thriving" as obtaining consistent revenues, supporting good jobs, nurturing a happy client base, and achieving sustainable growth over time.
Local businesses' top priorities to reach or maintain a state of thriving include better marketing, securing access-to-capital, hiring needed staff, and furthering their small business management skills.
Background
This year we had an unprecedented number of survey participants with over 551 small business owners taking time out of their busy schedules to reflect on the year. This represents a 21% response rate out of the 2571 entrepreneurs assisted in the prior year. Mountain BizWorks is very grateful for everyone who participated. Responses came from across our Western North Carolina service area. 18 different counties were represented in the response pool.
Roughly 60% of respondents were women-owned businesses, and 24% were owned by people of color (POC). 119 responses (22%) were from rural counties (per the NC Rural Center definition).This percentage is lower than normal in part because Mountain BizWorks administered the One Buncombe Fund, the Shelby One Fund, and other programs that specifically served non-rural counties.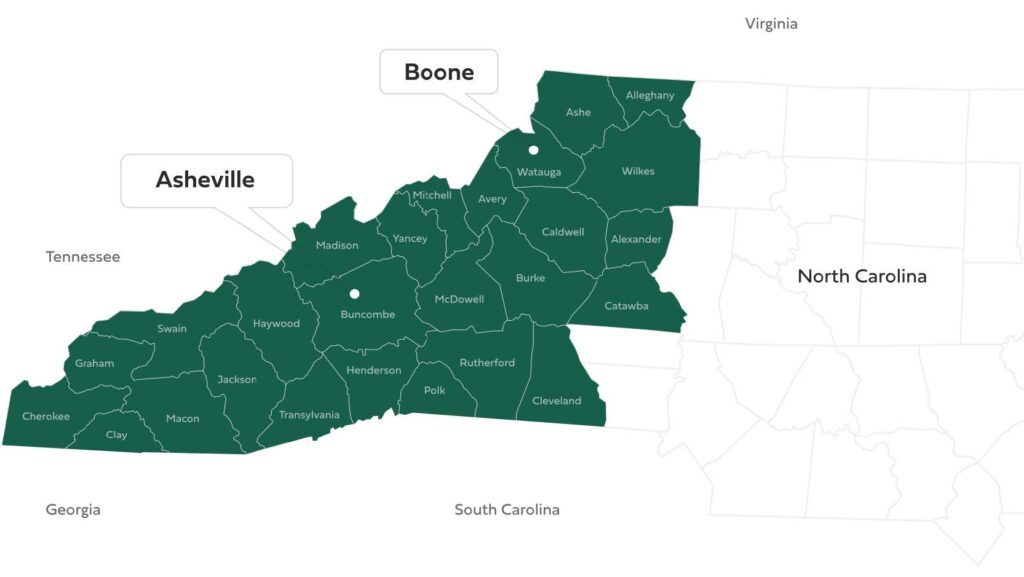 The Path to Pandemic Recovery
Our focus this year was on entrepreneurs' journeys from surviving the pandemic towards recovering and moving towards a new state of thriving. Mountain BizWorks hopes to create opportunities and encourage entrepreneurs as they experience this transition after two (and counting) very difficult years. After adapting to changes with COVID-19 and the recent rise of inflation, there is no better time than now to gauge where entrepreneurs of Western North Carolina stand in their journey of resilience and success.
A Flourishing of New Local Business Activity
One of the first things that jumps out of the data is a continued rise in new local businesses started as we exit the pandemic. Looking back to 2020, the Local Business Impact Survey only found 41 new businesses started that year. In 2021, it jumped to 95. This year, the survey identified 160 new businesses started with assistance from Mountain BizWorks services. We suspected the pandemic might unleash a surge of creative new entrepreneurial activity and the data is now showing this clearly. In fact, statewide, the rate of new business formation has broken records in each of the past 2 years. Additionally, 250 respondents said their business was retained or expanded over the past year through Mountain BizWorks services.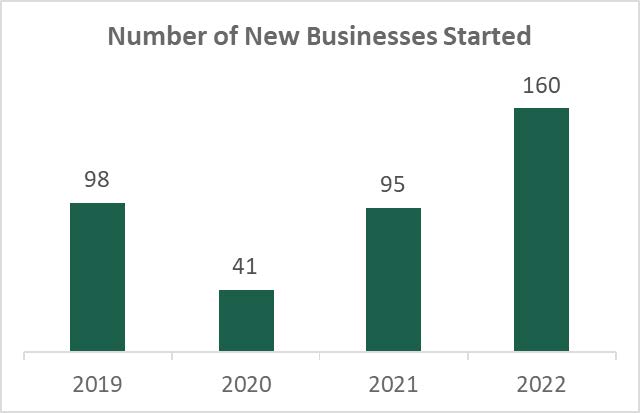 Job creation and recovery has also been robust with 1,023 jobs created and 1,776 jobs retained. Further, the respondents shared they currently have 618 open positions they are trying to fill. This continues to show strong economic progress from these local businesses and it also highlights ongoing challenges in finding the needed workforce and talent. NC's unemployment rate in July 2022 was 3.4% which is even lower than the very low 3.7% in February 2020 before the start of the pandemic. This suggests that an extremely tight labor market will be the norm going forward and our businesses will need to be creative on how to find and retain workers. Similarly, communities that can attract new residents and workers will fare better than those with flat or declining working-age populations.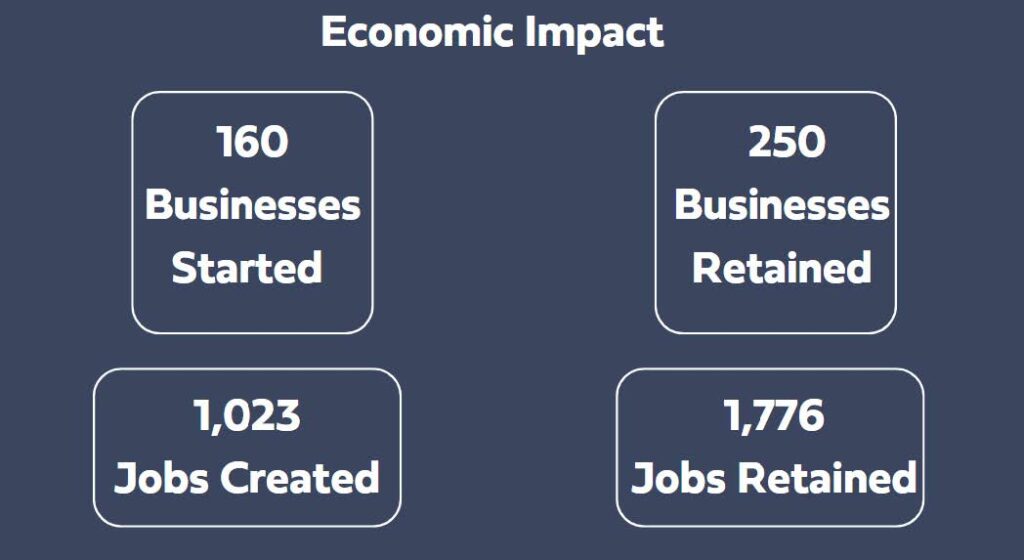 A Steady But Uneven Recovery
We're pleased to see that the percentage of businesses reporting they are back to full and normal operating hours rose from 72% in 2021 to 79% as of June 2022.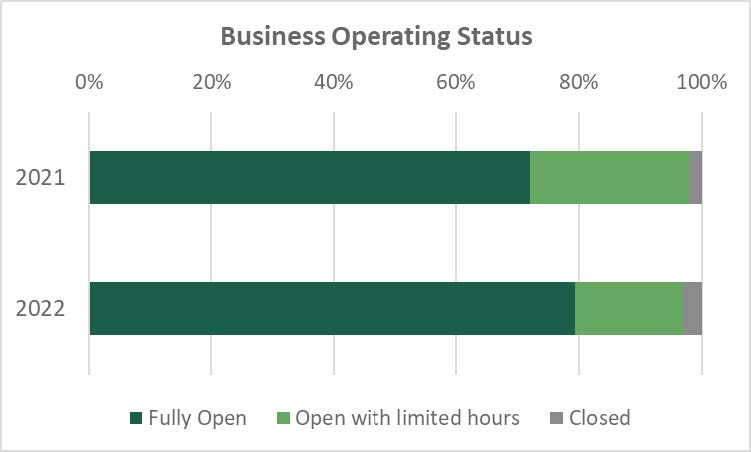 Revenue recovery has also continued, albeit slower than we would all like to see. As illustrated in the below chart, as of June 2022, more than half (56%) of businesses are still working to recover to their pre-pandemic revenue levels. 44% of businesses have now exceeded that milestone, however this is only up 8% from last year's mark of 36%. While 20% of businesses are now reporting their revenue is more than 120% of their pre-pandemic level, a quarter of all businesses are still at less than 80% of their pre-pandemic revenue level. This clearly shows that local businesses are still facing challenges on their path to a full recovery.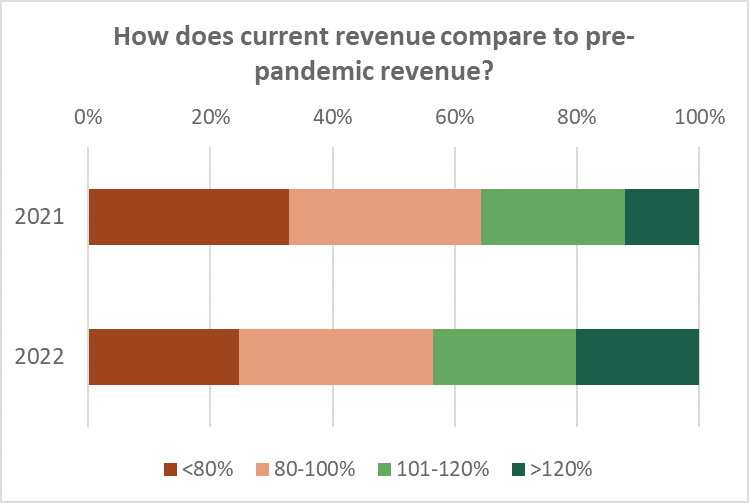 If we look further at the percentage of companies that have fully recovered to their pre-pandemic levels based on business segment, size, and industry, the data does suggest not all businesses are recovering equally. Women-owned firms are recovering at a slightly slower rate than the overall average. Businesses owned by people of color are recovering much more slowly (30%) than their white-owned counterparts (44%).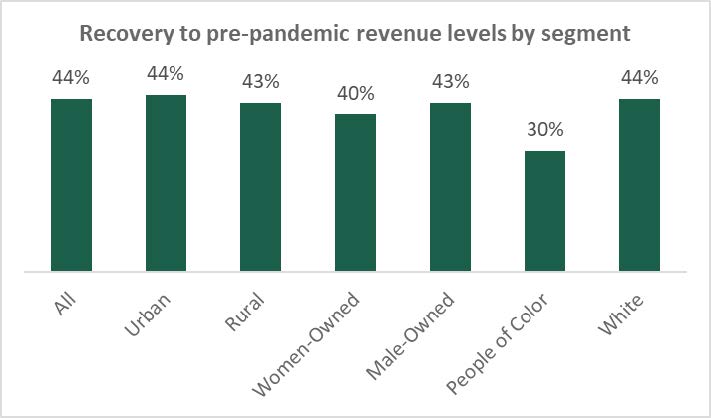 If we look at recovery by business size (number of employees), the differences are even more stark. Only 38% of very small businesses, those with 5 or fewer employees, have recovered to pre-pandemic revenue levels while 71% of businesses with 6-to-10 employees have. Larger businesses are closer to 55%.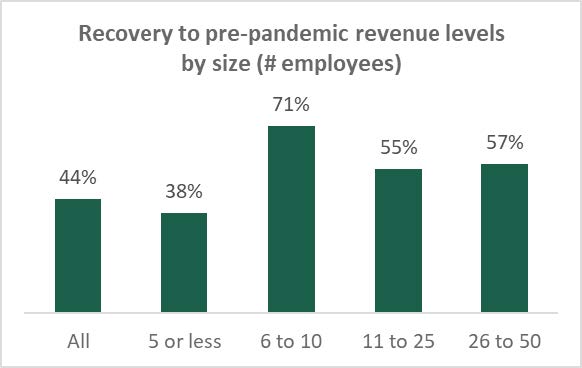 The levels of recovery by industry also have wide variances and range from a low of 13% for Personal Care businesses and up to 60% for Education & Child Care businesses.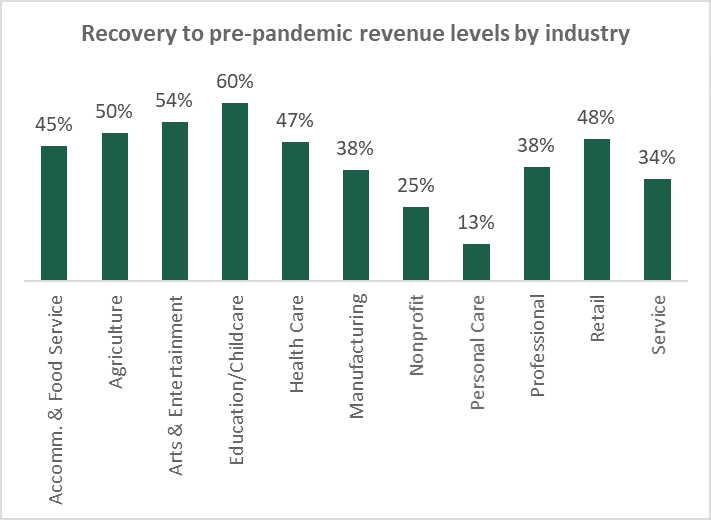 The Rising Impact of Inflation
With the steady rise in prices in recent months, we asked about inflation's impact on local businesses. Four out of five local businesses are seeing moderate-to-serious impacts of inflation. Based on the qualitative data, inflation has forced owners into having to pay higher wages, input costs, and having to increase prices. While the results report everyone is feeling the impacts of inflation, people of color and those in rural areas are those being hit the hardest.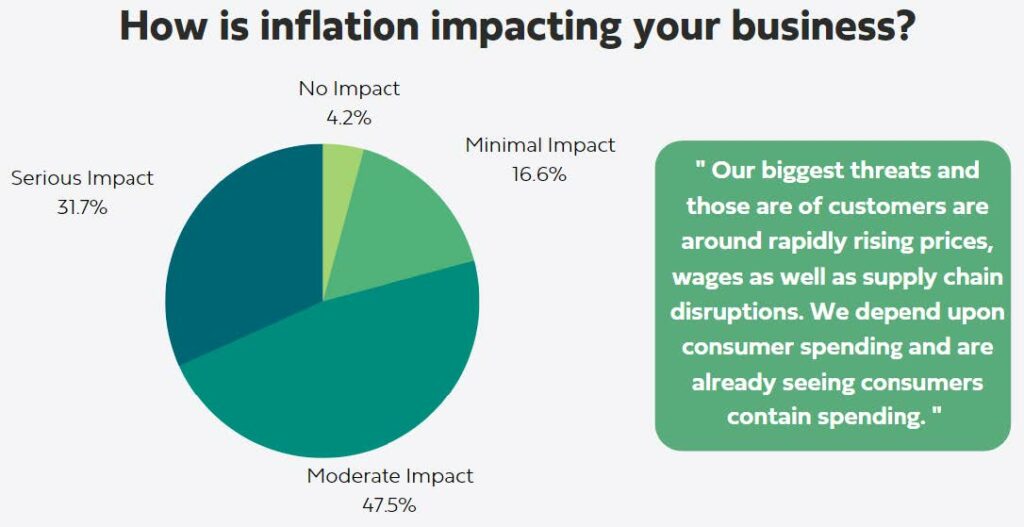 Time to Thrive
After an unprecedented two years, local businesses are looking forward to cultivating a new state of thriving for their business and their community. The wave of new business starts is certainly adding new dynamism. The data is also showing lessons and skills honed during the pandemic, and a revised definition of what a thriving business looks like in the post-pandemic era.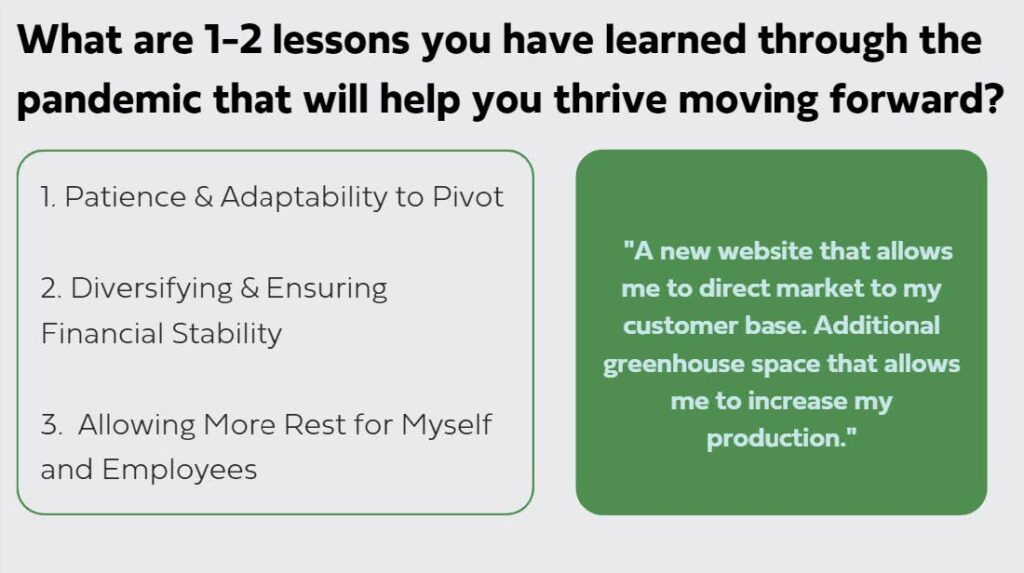 What does 'thriving' mean for your business?
We asked this to get a sense of if and how the definition of success may have shifted over the last couple of years. There were 10 clear themes that came through the more than 500 responses. An aim for more consistency (especially for revenue and profitability) and measured growth comes through. At the same time, companies are also striving to meet and exceed living wages. Striving for a healthy work-life balance is also an increasing focus.
Steady income
Strong market and brand awareness
Supporting good jobs, providing living wages and benefits, and being able to retain employees
Consistent profitability
A happy and engaged client base
Sustainable growth
Doing what I love and advancing my craft
Paying myself well
Work-life balance; being able to take time off
Making a positive community impact
Top strategies for your business to thrive more
Lastly, we wanted to understand what strategies local businesses and our clients are prioritizing to further their business success and sustainability. Again there were 10 clear themes that emerged. Marketing (and sales) come through in several of the strategies. Finding and retaining workers continues to be a pressing need. Two-thirds of companies indicated they might need financing to expand in the coming year. We look forward to considering these needs as we refine our business financing and training resources for the coming year.
Marketing to grow our customer base
Securing funding to meet goals
Building the team and hiring needed staff
More coaching and classes to improve our business skills
Expand web and social media presence
Strengthen and hone our sales pipeline
Improve our space (update/expand/relocate)
Financial planning and budgeting
New product development / diversify offerings
Networking
Acknowledgements
Mountain BizWorks' 2022 Local Business Impact Survey would not have been possible without some key contributors. First, we want to share a huge thank you to each and every business owner who took time out of their busy schedule to share with us this invaluable snapshot of businesses across the region. We take your trust very seriously and will continue to use this information to guide our work for years to come.
Second, is a big thank you to our two incredible summer impact interns who took a lead role in conducting the survey and compiling these results. Evan Lewis joined us from University of North Carolina Asheville and Kailey Patel from University of North Carolina Chapel Hill. Thank you Kailey and Evan for making this such a productive and fun summer!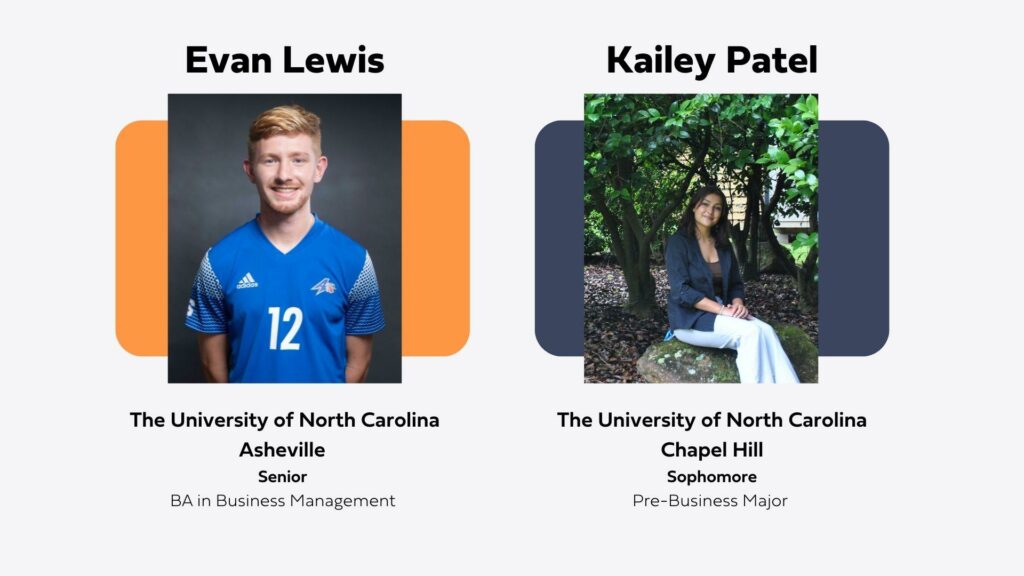 We hope that you have come away from this with a deeper understanding of the WNC region and the current status of local entrepreneurship. If you are a business owner, we look forward to continuing to assist you in reaching your goals – check out our upcoming learning and lending offerings. If you are a community member and want to engage at a deeper level, learn more about supporting our work here.