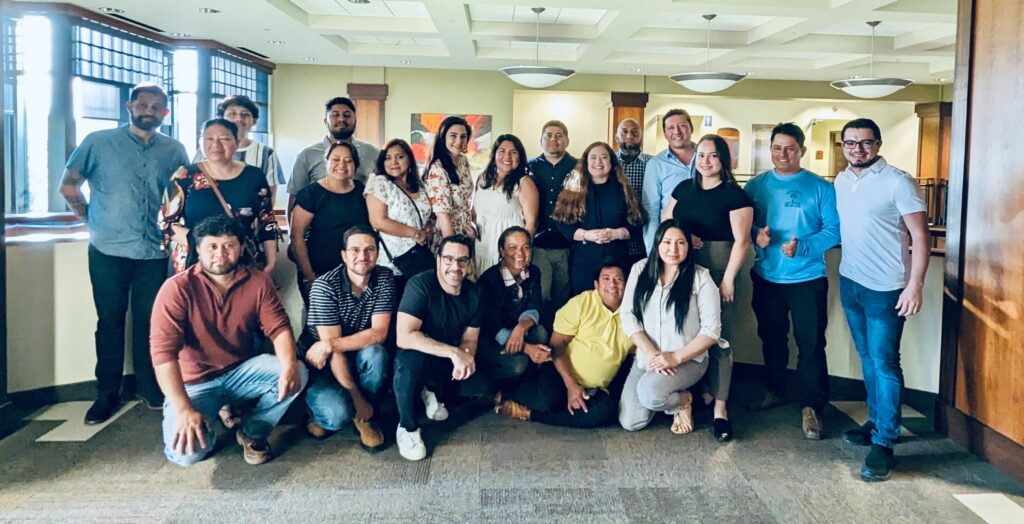 Mountain BizWorks' Latino Catalyst Cohort begins this month with 12 entrepreneurs poised for growth. This is the first Catalyst Cohort offered entirely in Spanish, and the fifth overall Catalyst Cohort. The inclusive entrepreneurship program provides ongoing business and leadership skills-development for entrepreneurs of color.  
Members of the Latino Catalyst Cohort will join a group of passionate entrepreneurs in a peer-support setting, facilitated by a growth mentor. The 10-month program will help members navigate the challenges and opportunities of entrepreneurship. In addition to the cohort sessions, participants will be able to take advantage of one-on-one coaching sessions with program facilitators and Mountain BizWorks mentors. Each participant will also receive $2,000 dollars to subsidize the cost of business services in the areas that their business needs to achieve their growth goals.
After a highly competitive process, we're pleased to welcome the following twelve entrepreneurs from Henderson, Buncombe, and Transylvania Counties to the cohort: 
Ismael Ramirez of Rockhopper Home Solutions:

Waterproofing and moisture-prevention services

Javier Garcia of Delish:

Dessert restaurant in Biltmore Village

Bernandino Mondragon of Bernardo's Landscaping:

Landscaping services in the Asheville area

Delia Jovel of Tierra Fértil Coop

: A worker-owned farm cooperative in Hendersonville

Hans Carlos Banzer of H&A Productions/Asheville Plays

!

: Specializes in food, great parties, and The Haunted Trail

Gisela Lapido McHone of Bellwethers Landing

: A home store, farmer's pantry, and garden and event facility

Doris Pacheco of El Patron Subs & Grill

: Restaurant with a combination of Mexican cuisine and subs in Arden

Ada Martinez of Muy Mucho

: Hispanic heritage event coordination services

Yanet Mar Peralta of Dimar Construction

: Construction services in the region

Rene Hernandez, Restaurant Consulting

: Restaurant consulting services

Danithza Baker of Spanish for Kids in Asheville

: A Spanish-language daycare and learning center in Asheville

Juan Ramirez of RH Brothers:

Landscape development services
Jenny Forero, Latino Entrepreneurship Program Manager, shared, "We're so proud to welcome 12 entrepreneurs into the first Latino Growth Cohort. I know they'll learn so much from the facilitator, business owner Catalyst Cohort graduate Oscar Molina, as well as business owner guest experts, and, perhaps most importantly, from each other." 
For more information about the Multicultural Catalyst Program and Catalyst Cohorts, visit MountainBizWorks.org/Catalyst. 
---
Le Damos La Bienvenida a Doce Empresarios al Primer Grupo Latino Catalizador de Mountain BizWorks
Mountain BizWorks comienza este mes con 12 empresarios listos para crecer. Este es el primer grupo Catalizador para crecimiento de negocios totalmente ofrecido en Español, y el quinto grupo de crecimiento Catalizador. El inclusivo programa está diseñado para ayudar a los empresarios a desarrollar continuamente las habilidades comerciales y de liderazgo para empresarios de color. 
Los participantes del grupo Latino Catalizador se unirán con su pasión al crecimiento y se ayudarán mutualmente, facilitado por un mentor de crecimiento. El programa de 10 meses les ayudará a navegar los desafíos y oportunidades de ser empresario, Los participantes también tendrán la oportunidad de tener mentores para trabajo individual con el programa de mentoría y maestros de Mountain Bizworks. Cada participante también recibirá $2,000 para ayudarles en áreas para llegar a sus metas de crecimiento.
Después de un proceso altamente competitivo, estamos alegres de darles la bienvenida a los empresarios de los condados de Henderson, Buncombe, and Transylvania: 
Ismael Ramírez, dueño de Rockhopper Home Solutions:

Negocio de impermeabilización y servicios de prevención de humedad.

Javier García, dueño de Delish:

Panaderia y Comidas en Biltmore Village

Bernandino Mondragón, dueño de Bernardo's Landscaping:

Servicios de Jardinería en Asheville

Delia Jovel de Tierra Fértil Coop

: Una granja de cooperativa donde los duenos son los trabajadores en Hendersonville

Hans Carlos, dueño de Banzer of H&A Productions/Asheville Plays

!

: Se especializa en comida, grandes fiestas, eventos divertidos para negocios, empresas o grupos y el Haunted Trail

Gisela Lapido McHone dueña de Bellwethers Landing

: Una tienda para decoraciones para la casa, comida de granja y un lugar de jardinería y de eventos.

Doris Pacheco dueña de El Patron Subs & Grill

: Restaurante con la combinación de cocina Mexicana y tortas en Arden

Ada Martinez dueña de Muy Mucho

: Coordina eventos y bailes Hispanos

Yanet Mar Peralta dueña de  Dimar Construction

: Servicios de construcción.

Rene Hernandez, Restaurant Consulting

: Ayuda a negocios de restaurantes

Danithza Baker dueña de Spanish for Kids in Asheville

: Una guardería Bilingüe en el centro de Asheville

Juan Ramirez of RH Brothers:

Servicios de Jardinería en Brevard
Jenny Forero, la Gerente para el Programa Empresarial para Latinos, dice "Estamos muy orgullosos de darle la bienvenida a nuestro primer grupo de crecimiento de 12 empresarios. Yo sé que aprenderán mucho de nuestro graduado y dueño de su negocio, Oscar Molina, y también de expertos en negocios que enseñaran los talleres, pero aún más importante aprenderán mutuamente como grupo"
Para más información sobre el Grupo Catalizador de Crecimiento, visite a https://www.mountainbizworks.org/en-espanol/grupo-catalizador-en-espanol/.