Entrepreneurial Perspectives on Real Estate, B2B Connections, and Succession Planning in Western North Carolina
Every summer, Mountain BizWorks conducts the Local Business Impact Survey to better understand the current state of small businesses in our region and to assess the impact of our programs. We began conducting this survey in 2016 in order to recognize the unique set of challenges and experiences of those we serve, and to gain a better understanding around how the larger ecosystem can support their needs.

In the past few years, the primary focus and targeted outcome of this survey has been to support businesses throughout the challenges posed by the COVID-19 pandemic. The insights gleaned from the survey have played a crucial role in helping numerous businesses move beyond mere survival and achieve prosperity as the pandemic recedes. With that in mind, we recognized the importance of exploring a broader range of subjects beyond pandemic-related matters as reflected in the findings below. 

We are so grateful to the 419 small entrepreneurs across the region who provided their insights.

Key Findings
Job creation and retention have shown strong performance this year, resulting in the creation of 942 new jobs, 91 new businesses, and the retention of 1,796 existing jobs with support from Mountain BizWorks services. 

We are seeing a rebound in pre-pandemic business revenue, but additional financing is still needed (39 percent of respondents).

Entrepreneurs are navigating the commercial real estate market while facing challenges around securing space at affordable rates, marketplace knowledge and access to capital. 

Many business owners have the desire to source and sell more locally to other businesses, marking a need for growth in this space.

Baby Boomers currently own nearly half of all privately owned businesses in Western North Carolina (Project Equity). As this generation retires, it is important for the market to prepare for and adapt to this change. Of the small businesses in NC owned by this generation, there is a need for increased resources around succession planning and the development of exit strategies.
Demographics of Responses
This year, 419 of entrepreneurs took the time out of their busy schedules to reflect on their successes and challenges as business owners in Western North Carolina. The overall response rate was 27 percent from the 1,537 entrepreneurs who received the survey. Responses were provided from across our entire Western North Carolina service area and with all 26 counties of our service area represented.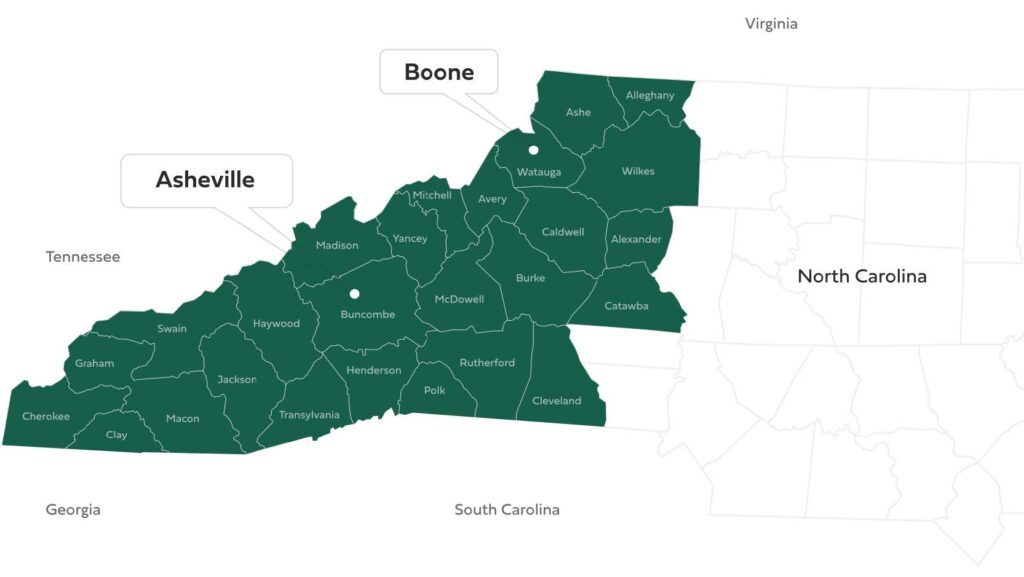 Fifty-nine percent of respondents were from women-owned businesses, and 30 percent were owned by entrepreneurs of color. A total of 163 (39 percent) were from rural counties in the region (per the NC Rural Center definition).

It should be noted that the percent of women-owned businesses represents those surveyed with known gender data (68.6 percent) . 
The Economic Impact of Small Business Across WNC
We continue to see a rise in new local businesses, and the survey indicated that 91 new businesses started with assistance from Mountain BizWorks. The North Carolina Secretary of State reported record breaking new business formations in 2022 and are on pace to exceed those numbers already within 2023.

Additionally, 183 respondents said their business was sustained or expanded over the past year utilizing Mountain BizWorks services. The results are the creation of 942 new jobs and 1,796 jobs retained. Additionally, respondents indicated a current total of 368 open positions, evenly distributed between part-time and full-time opportunities.
Business Revenue, Profitability, and Personal Income
We continue to see a recovery around pre-pandemic levels of revenue and profitability with a slight upward trend in 2023.  We are encouraged to share that the number of respondents who reported a personal income increase of 5 percent or more is at its highest since 2018.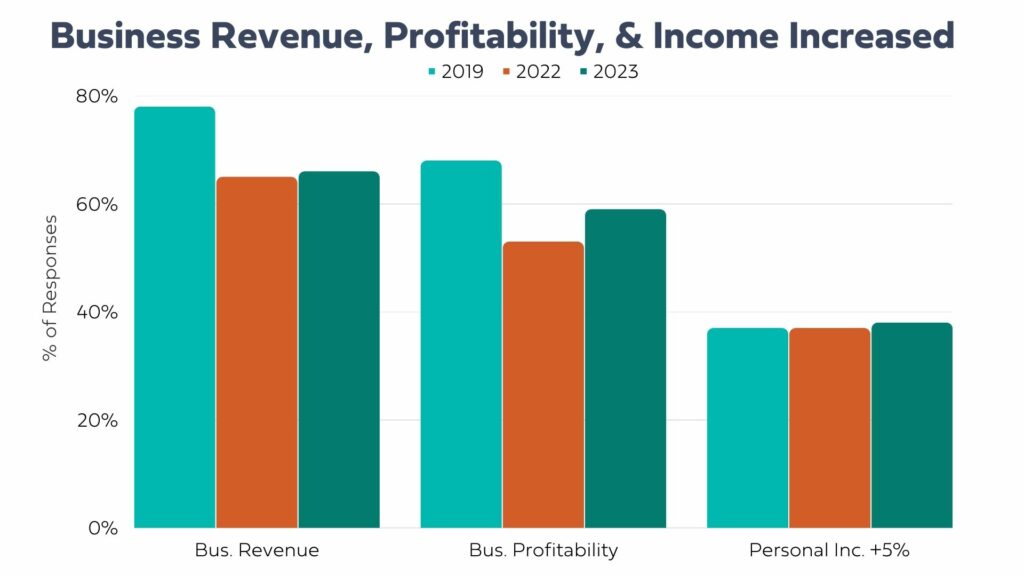 We were also encouraged to find that Entrepreneurs of Color (EOC) reported higher percentages of business profitability, revenue, and personal income, increasing than overall across the board. 
Capital Needs
While we are seeing a strong rebound toward pre-pandemic business revenue, the expressed need for additional financing speaks to the increased costs around starting and operating a business. Notably, of the 159 respondents who indicated an anticipated need for financing, over 34 percent were women, 37 percent were located in rural communities, and 59 percent were entrepreneurs of color.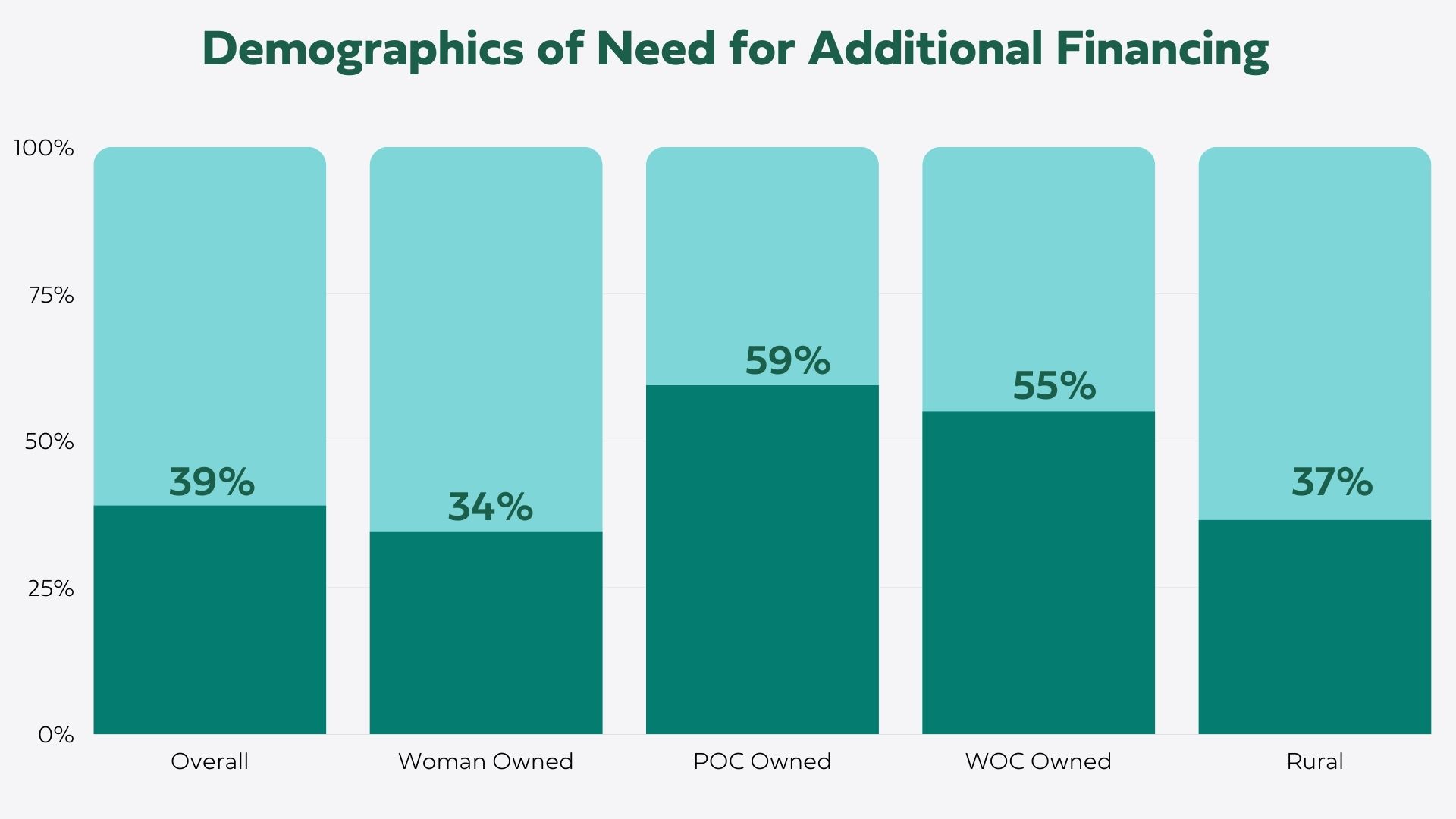 We are grateful to our longstanding funders and community partners who have provided meaningful support around the expansion of programs like the Multicultural Catalyst Program. This programming continues to provide the resources and tools necessary to create increased access to capital and pathways to generational wealth for entrepreneurs of color.
Real Estate Insights
We took this opportunity to gain insight around both commercial and residential real estate challenges facing entrepreneurs across Western North Carolina. We found that overall, 29 percent of those surveyed own their business operating space with a marked 10 percent increase in ownership within rural communities.
Some of the challenges we heard from small business owners around their desire to own their space included: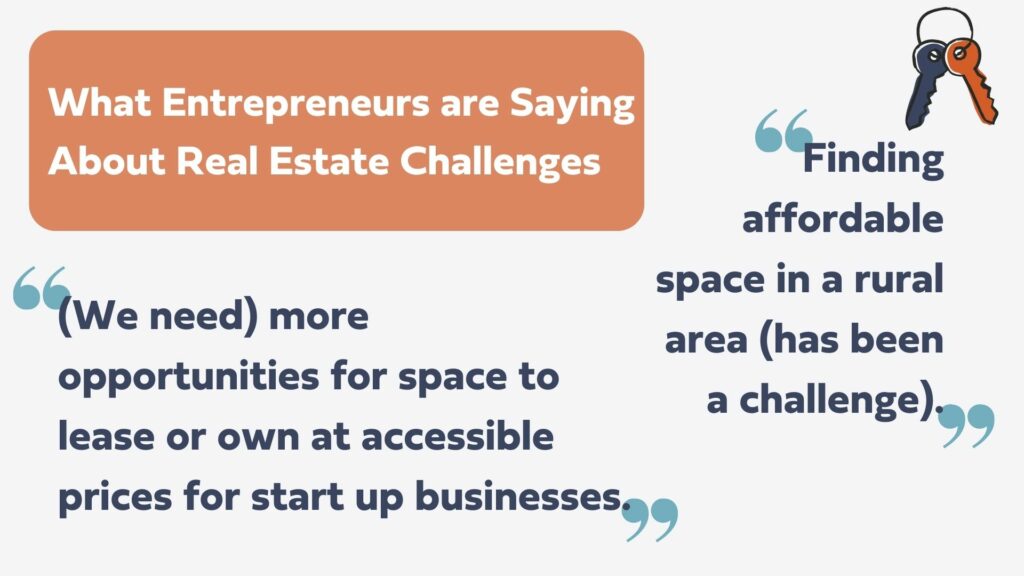 Entrepreneurs also shared the difficulty of understanding the tax and state fee obligations imposed on real estate owners by the city, county, and state, and in effectively incorporating these costs into their overall expenses.
In an effort to gain a full understanding around real estate, we also explored home ownership data. While the figures remained relatively consistent across race and gender demographics, 77 percent of those in rural areas reported owning their home, a 17 percent increase over peers located in urban areas.

This is on par with the housing data from across the Western North Carolina region as a whole, indicating that 69 percent of the population owns rather than rents their own home. (2021 Dogwood Health Trust Housing Needs Assessment). 
Business-to-Business (B2B) Connections
In our increasingly globalized world, supporting local businesses has never been more crucial for their success. Our survey revealed that almost half of small business owners aim to source and sell more locally.

Here are the top three insights they shared: 
The significance of targeted local marketing for their business. 

A desire to strengthen their own business' local focus within their decision making and purchasing. 

The importance of networking and building relationships with other small businesses in their community. 
Furthermore, clients indicated their interest in bolstering purchasing networks, referral programs, or introducing a "Go Local WNC" campaign similar to the well-received "Go Local Asheville" initiative. 
Additionally, we sought insight around what types of products businesses would like to source at a local level. While there was a variety of responses covering various products, services and industries, there were a few that stood out: 
Local office supplies and printing services

Eco-friendly food service packaging 

Agriculture and plant related materials and supplies
The above industries could be spaces for growth in the region or areas where existing businesses might have opportunity for awareness and marketing.
Businesses and the Outdoors
It is no secret that Western North Carolina is geographically unique. With our mountains, rivers, and beautiful autumn leaves, much of the tourism economy is rooted in outdoor recreation. We wanted to see how our local businesses view WNC's natural outdoor assets in relation to their business being located here. We found that 48 percent of respondents agreed that the natural environment and recreational amenities were important to their business being based here.
Succession Planning and Market Advisors
As WNC faced a significant decline, losing over 60 percent of its traditional key industries like furniture, textiles, and tobacco, the region made a conscious effort to prioritize economic diversification by focusing on small business and entrepreneurial development. Over time, this emphasis on small business growth has resulted in a notable achievement – currently, half of the privately owned small businesses in Western North Carolina are now owned by Baby Boomers. As this new era emerges, we acknowledge the chance to assist small business owners in preserving local wealth creation.

Here are some of our findings around succession planning and business transitions: 
While many of the small businesses that Mountain BizWorks serves are at the startup or early development stage, there are 39 local businesses that are planning to sell within the next 5 years. 

Among the businesses that responded to the survey, 45 percent of them have been in existence for 10 years or more. 

Only 16 percent of all survey respondents have an exit strategy for their businesses. This suggests that a large number of entrepreneurs may not have a clear plan for exiting their businesses when the time comes.

The percentage of respondents with an exit strategy increases slightly to 20 percent among those who reported that they planned to sell their businesses at some point. This implies that some entrepreneurs start considering exit strategies once they decide to sell their businesses.

Notably, 28 percent of entrepreneurs of color reported having an exit strategy. 
For close to 35 years, Mountain BizWorks has remained dedicated to helping entrepreneurs turn their business visions into tangible realities. As more of the entrepreneurs we've aided in building thriving businesses start considering succession planning or their next career phase, we have introduced the Market Advisors program to meet this emerging need within the community. This is a resource we will continue to foster in the coming years as more reach that milestone.
Acknowledgements
The success of Mountain BizWorks' 2023 Local Business Impact Survey is owed to the invaluable contributions of a few key partners. 
We extend our gratitude to each business owner who dedicated their valuable time to provide us with this crucial snapshot of businesses throughout the region. Your trust is of utmost importance to us, and we commit to utilizing this information to shape our work in the years ahead.
We would like to thank our sponsors for this survey, Altura Architects and Trout Insurance Services. Thank you for your investment and commitment to hearing the voices of local entrepreneurs.

Then, a big thank you to our two incredible summer impact interns who took a lead role in conducting the survey and compiling and analyzing the results. Lauren Sermersheim joined us from Mars Hill University and Jordan Morehead from the University of North Carolina Asheville. Thank you, Lauren and Jordan, for making this such a productive and fun summer!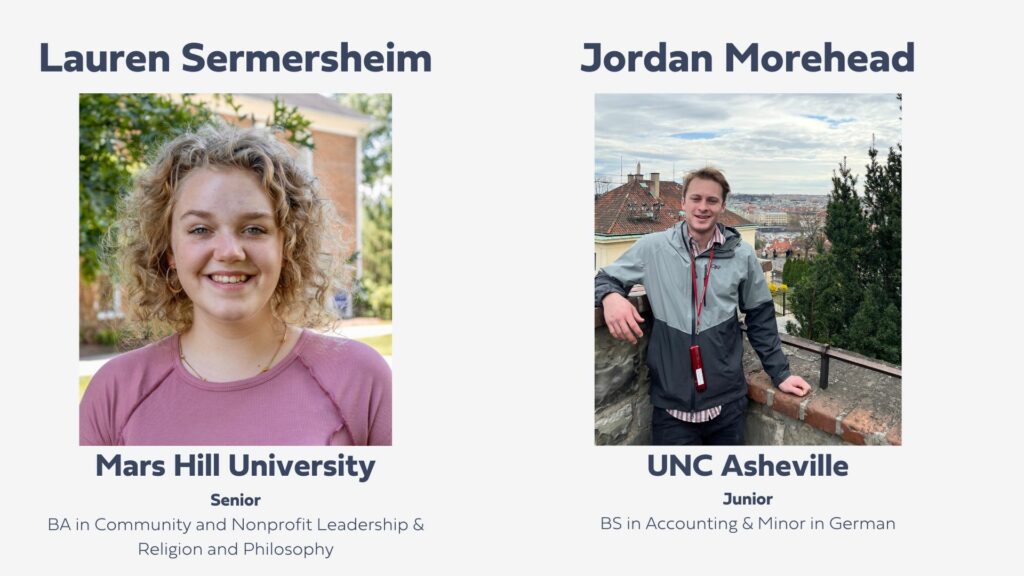 We trust that this has provided you with a greater insight into the WNC region and the existing landscape of local entrepreneurship. If you are a business owner, we look forward to continuing to assist you in reaching your goals – check out our upcoming learning and lending offerings. If you are a community member and want to engage at a deeper level, learn more about supporting our work here.