Want to learn more about B Corps and participate in the movement in WNC? B Local Asheville + WNC is proud to host the following events:
Save the Date
Mark your calendars now for the following; more details to come…
Past Events
JB Media B Corp Certification Celebration 
June 27, 5-7 pm

On June 27th, we raised a glass to JB Media Group for becoming Asheville's newest B Corp at the New Belgium Liquid Center!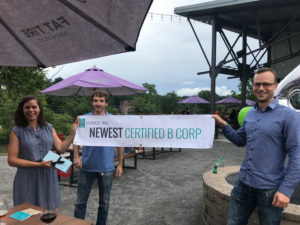 B Corp Information Session
June 13, 4-5:30 pm

24 entrepreneurs joined Adrianne Gordon of JB Media Group, Jael Rattigan of French Broad Chocolates, and Steve Linton of Deltec Homes for an information and Q&A session on the process of becoming a B Corp moderated by Peter Krull of Earth Equity Advisors. It was a great opportunity for entrepreneurs to get connected with established B Corps, and connect with like-minded businesses in the area who are also seeking to become B Corps.