We're excited to announce the members of our sixth ScaleUp WNC cohort and our first based in Boone, with sessions taking place in spring of 2017. Congratulations to these 15 innovative small businesses that were selected for the program, which is funded by the U.S. Small Business Administration.
MEMBERS OF THE 6th COHORT – SPRING 2017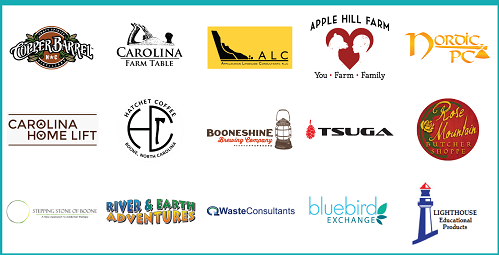 The following 15 growth-oriented small businesses will receive intensive training, one-on-one management support, assistance in connecting with growth capital, and the opportunity to strengthen connections in order to scale up their ventures:
* Appalachian Landslide Consultants 
Appalachian Landslide Consultants, PLLC specializes in helping those who have concerns about their steep slopes or landslides on their property, whether it be landowners, government, or commercial industries. (Buncombe County) 
* Apple Hill Farm 
Apple Hill Farm connects you to what matters. Meet alpacas, angora goats and a range of farm animals while touring a real working farm on a mountaintop. Shop for alpaca socks, yarn and other alpaca products in our farm store. (Avery County)
* Bluebird Exchange 
Bluebird Exchange provides the High Country with a year round outlet to buy and sell high quality, pre-loved baby and children's goods. As well as our fab consignment selection, we stock a ton of new brands such as Milkbarn, Natural Life, Chronicle Books, Beco Baby Carrier, The Bird and Elephant, Haba, Kid O, Jellycat, Chewbeads and more. (Watauga County) 
* Booneshine Brewing Co. 
Boonshine Brewing is passionate about brewing high quality beer and equally focused on connecting with people and tapping into what makes the community of Boone and the High Country shine.  Let's #makebooneshine together. (Watauga County) 
* Carolina Farm Table 
Carolina Farm Table is a handcrafted custom furniture company, located in the Blue Ridge Mountains of North Carolina. We have a passion for creating one of a kind tables, hutches and kitchen islands, made from locally cut, new and reclaimed woods. (Alleghany County) 
* Carolina Home Lift 
Based out of western North Carolina, Carolina Home Lift LLC is a full-service elevator company. We provide a wide range of mobility products including multi-stop elevators, platform lifts, dumbwaiters, and stairlifts. (Buncombe County) 
* Copper Barrel Distillery 
 Copper Barrel is an award-winning distillery located in the legendary "Moonshine Capital of America" and uses the world's first legal steam-injected distillation system to produce truly genuine American craft spirits from locally sourced ingredients. (Wilkes County) 
* Hatchet Coffee 
Hatchet Coffee is a small batch roasting company located in Boone, NC.  Since 2015 we have been roasting premium coffees from around the world.  We partner with the best importers and producers  to ensure quality and build relationships. Through these relationships we aim to improve the lives of our community and theirs. (Watauga County) 
* Lighthouse Educational Products 
Lighthouse Educational is excited to bring our love of Geology to Mitchell County.  We offer everything from beautiful specimens to educational materials for the enjoyment of all those interested in rocks and minerals. (Mitchell County) 
* Nordic PC
Nordic PC is an IT Consulting firm, and PC boutique specializing in small business and high-end personal computers. Whether you are running a 75 machine network and need rack servers and workstations, or just want a PC that can play Crysis in style, we've got the solution. (Watauga County)
* River and Earth Adventures 
River and Earth Adventures Inc. is guide owned and operated adventure outfitter in western NC. Land-based guided trips include cave expeditions and hikes.  Water-based guided adventures are on the Watauga and French Broad Rivers.  Rentals of kayaks, canoes, and tubes take place on the New River. (Watauga County)
* Rose Mountain Butcher Shoppe
The Butcher Shoppe is dedicated to connecting small sustainable farm products to customers in the western mountains of NC. (Ashe County) 
* Stepping Stone of Boone 
Stepping Stone of Boone strives to be a positive, supportive presence in the community, and in the lives of the people we serve, in our collective pursuit to successfully cope with the disease of addiction. (Watauga County)
* Tsuga 
Tsuga is a design, manufacturing, and merchandising company representing our lifestyle in Boone. Our designs and products are useful and practical items ranging from utility goods to canopies.
* Waste Consultants 
Waste Consultants serves companies by managing and substantially reducing commercial waste disposal and recycling expenses on a risk-free, results-oriented basis. (Watauga County)