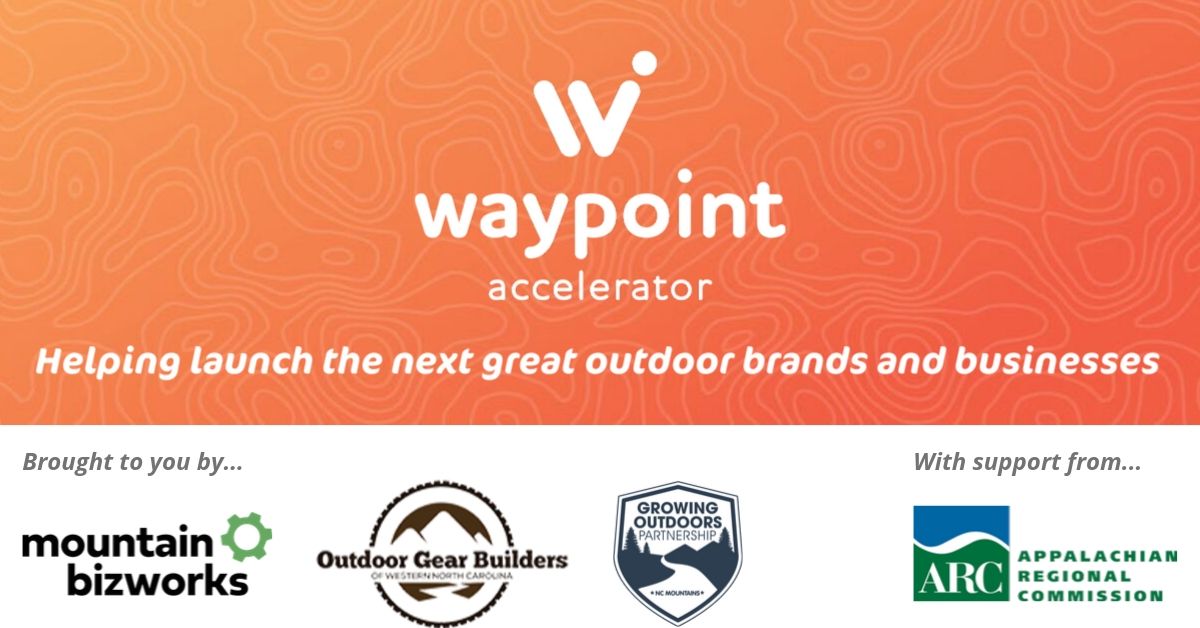 Mountain BizWorks, Outdoor Gear Builders of Western North Carolina, and several strategic partners are excited to support the Waypoint Accelerator – an outdoor entrepreneurship and innovation accelerator program for early-stage, outdoor-focused companies who have recently embarked on their journey or are still at the trailhead waiting to take the first step.
A Few Key Highlights:
| | |
| --- | --- |
| | Based in Asheville and Western North Carolina, a region featuring world-class outdoor recreation amenities – first outdoor accelerator in the Eastern U.S. |
| | Embedded in a thriving and collaborative outdoor industry network, including many serving as program mentors and advisors |
| | 10-session intensive program plus tailored mentorship opening at the 2019 Outdoor Economy Conference in October and concluding at the 2020 Get in Gear Fest in March |
| | Serving 8 outdoor startups per cohort from gear makers to experience providers and from concept to early sales |
| | Strong access-to-capital connections but you don't have to give up any equity or take investment to participate – and there's no cost for the first round |
| | Includes membership in the Outdoor Gear Builders of WNC |
Interested in Applying?
Sign up below to be the first to know when applications open for the next cohort, and to be notified when other program information and resources are available.
Curious about our past cohort members? Meet the 10 Companies Accepted into the First Cohort
Informational Session
Mentors and Advisers
Waypoint harnesses the exceptional and collaborative network of outdoor industry leaders based in WNC to provide tailored mentorship, advice, and connections. Here are just a few of the folks on the Waypoint bench ready to help you go to market smarter and help more people connect with the great outdoors.

Coral Darby
Darby Communications

Philip Curry
Astral

Hayley R. Wells
Ward and Smith, P.A.

Ross Saldarini
Yellowstone Advisors

Adam Masters
Bellyak

Alan Davis
Blue Ridge Chair Works

Amy Allison
Eagles Nest Outfitters

Annie Milroy Price
Birds Eye/Turquoise Ladder

John Delaloye
Diamond Brand Gear

Lauren Rash
Diamond Brand Gear

Duane Adams
AB Tech Small Business Center

Evans Prater
Mount Inspiration

Bill Johnston
Recover Brands

Clark Harris
LoLo

Natalie DeRatt
Carmen and Grace Communications

Sarah Wood
Industry Nine

Jamie Gilpen
Outfitter Bicycle Tours

Forrest Merithew
Merithew Law, PLLC

Angie Robinson
Darby Communications

Matt Godfrey
Periscope Solutions

Wes Stone
Western Carolina University

Andy Coburn
Western Carolina University

Donald Corey
Appalachian State University

Rich Campbell
Appalachian State University