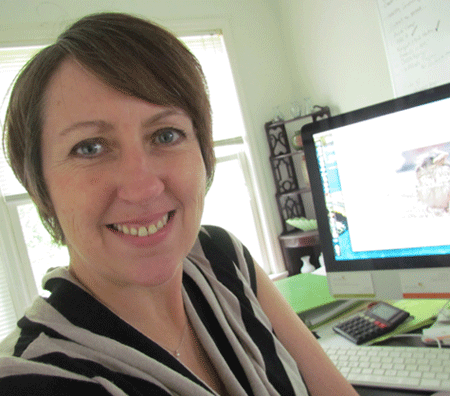 Studio XP Branding & Communication Tools provides small businesses with big branding. Owner Pat Kappes has built on her 15+ years of experience to create an Asheville-based firm with a diverse array of both local and national clients.
Pat recognized that the best way to serve her clients was to ensure that her business was as strong as possible. So she signed up for our Business Boot Camp where she's learning how to plan for growth. 
What does Studio XP do?
We work with entrepreneurs and small to medium-size businesses on their branding and marketing needs. We design and produce all the materials they need to communicate with their clients and run their business – from logos, newsletters and brochures, to websites and online projects. The idea is to alleviate the business owner of the burdens in managing their day-to-day marketing so they can focus on the aspects of their business that bring them the highest return.
When and why did you decide to start your business?
I started Studio XP about a year and a half ago. I had been working for larger corporations on their marketing platforms and after moving to Asheville, I was encountering a lot of small businesses that were struggling in the branding area. There are so many ways a business can communicate with their customers online now, it's hard to know where to start. I wanted to help small businesses find solutions that would help them present a more professional and sophisticated front – solutions that were both affordable and that they could manage themselves long-term.
Why did you sign up for Boot Camp?
I was feeling like I was being pulled in a lot of different directions. As a small business owner, you wear every hat, so you're trying to manage your "back of the house" – billing, business development, etc. – while also performing really high quality work for your clients. I wanted to learn from successful local business leaders on how to become more intentional with my business and less reactive.
What changes are you making to your business as a result of Boot Camp?
I've already started becoming more analytical about my services and processes. In one of the Boot Camp sessions, we were asked to review past projects and analyze what worked – what was most successful as far as client satisfaction and profitability – and then were encouraged to move forward in those areas.
Also, as an entrepreneur, you have a lot of new ideas and want to offer a lot of different services, which can get overwhelming. In another great session, Jeff [Pennypacker] taught us how to plan to incorporate them in a smart way and not try to do everything all at once.
Finally, it's been really great connecting with the other people in the program. Regardless of the type of business we're in, we seem to have similar challenges.
Applications for the next Business Boot Camp are due October 4th. Not sure if Boot Camp is right for your business? RSVP for our free Sneak Peek on September 19th.
Learn More About Boot Camp