How do you determine your value in the marketplace and in your own company? 
Brett Binford, co-founder and CEO of Portland based Mudshark Studios, will share the story of how he started his first business and overcame obstacles along the way to go on and eventually found other successful, thriving companies. Specific to making, Brett will provide an overview of Lean Manufacturing techniques and how they can apply to your business as you grow from a solopreneur to an employer. Community and company culture are also the cornerstones to your business success and Brett will share his philosophies and insights regarding this topic for both outward facing branding and internal policies to ensure a happy and safe workplace. Participants are encouraged to come to the workshop with as many pertinent questions to their own businesses as well. We can all learn through each other's experiences.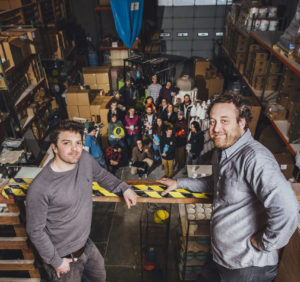 Brett Binford, a prolific crafts entrepreneur who has started 10 creative LLC's in the last decade, grew Mudshark Studios with his business partner from their basement into a 17,000 sq. footage studio with 33 full time employees in 14 years. Mudshark has been awarded the American Made Award by Martha Stewart in 2012, Small Business Award in 2013, and honored as one of Portland's budding businesses by President Barack Obama in 2017 during Small Business Week. Brett currently maintains 6 arts businesses and serves on 3 arts education boards.
Pricing & Ticket Packages
This workshop is part of the Craft Your Commerce: 2020 Spring Workshop Series being offered by Mountain BizWorks with support from Center for Craft and UNC Asheville. The series involves a networking event, three separate workshops, and one intensive courses suited for existing makers. The sessions work great on their own, but they're designed to build on one another and we encourage you to consider participating in the full series. Limited financial need-based scholarships are available. 
Individual Ticket
Early Bird Price for Scaling your Craft Business: $35 (ending Feb 20, 2020)
Regular Price for Scaling Your Craft Business: $45 (starting Feb 21, 2020)
Series Pass Breakdown:
The Series Pass gives you discounted access to all Workshops (Taxes for Makers, Scaling Your Craft Business, Crafting the Build Environment)
The Series Pass + Alpine gives you access to all Workshops AND the 5-week Alpine for Makers course 
Get your tickets before Feb 20, 2020 and take advantage of discounted Early Bird Prices!
Scholarships
Limited financial need-based scholarships are available. To apply for a scholarship please continue to this form. UNC Asheville students are also eligible for scholarships; contact Brent Skidmore for details.